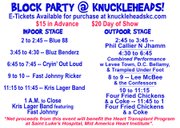 Past Event
Saturday, May 5, 2007, 2 p.m. to 2 a.m.
Knuckleheads, 2700 Rochester, Kansas City, MO
21+
Eight months ago, Merle Zuel showed up to his job at Knuckleheads Saloon in Kansas City, Mo., where he splits time working the door and booking bands.
"I got the money from the bartender, walked back across the room, started to feel weird, then I hit the ground," Zuel recalls. "I lost consciousness and went into a fatal heart rhythm. But my defibrillator brought me back around."
Zuel, a Lawrence resident since 1993, had reached a crossroads with his longtime heart condition.
"My mind was still healthy, but my body was shot," Zuel says.
The combination of his "prototypical football lineman size" coupled with a defective aortic valve and persistent sleep apnea had put an inevitably fatal strain on his heart. He knew he was running out of options for treatment ... with one exception.
"The way we match hearts is based on blood type and size," says Dr. Tracy Stevens, a cardiologist specializing in heart failure and transplantation who has been involved with Zuel's treatment.
"With Merle, it wasn't so much he had a unique blood type but a unique size. He's such a big guy, so tall."
On the afternoon of Feb. 23, Zuel got the call that a match was found. That night he received a heart transplant.
The five-hour surgery, conducted at St. Luke's Mid America Heart Institute in Kansas City, Mo., was a success.
"I felt better immediately," the 45-year-old Zuel says. "I feel better than I have in 15 years. I'm just sort of attacking life now."
That's not surprising, considering the shape he was in. The damage was apparent from looking at his old ticker.
"Normally, your heart should look like if you make a fist and put your other hand over the fist. His was about the size of a basketball," says Stevens, who works for Cardiovascular Consultants at its Plaza office.
In fact, Zuel had the largest heart on record at Saint Luke's.
He says, "Mine was 960 grams. The average is around 450 grams. Not a record I am proud of, but it was over 100 grams heavier than a Samoan guy who had the record before me."
Harp attack
Those in the area music scene would probably agree that Zuel has always been a big-hearted guy.
That's one of the reasons musicians have flocked to support Merle Jam, a benefit show Zuel has assembled for Saturday. The two-stage, 12-hour showcase will feature nearly a dozen blues-oriented acts at Knuckleheads. Net proceeds will go to the heart transplant program at Saint Luke's.
"Merle and I have been friends for years," says blues harp legend Lee McBee, who will be appearing at Merle Jam with his band the Confessors.
"I used to work with him on the Toys for Tots benefit at Liberty Hall. Merle's a huge fan. He really helps people out when they're coming to town and need a place to play."
McBee has another connection to the event.
"I recently had a heart attack and had to get a couple of angioplasties done," he admits. "It gave me some inspiration to do this in case I need a transplant some day."
Rhythm and blues
Zuel first learned of his heart condition at the age of 10 when he was diagnosed with aortic stenosis.
"I was born to play football, and I wanted to play for Navy. But the heart thing kind of killed that dream," says Zuel, who was raised in Osawatomie.
Zuel still was able to use his size for a career advantage. At 6 feet 4 inches tall he took a job at the old Laughing Dog Saloon as a bouncer.
"I told them the only way I'd do it is if you let me book the bands," he says.
This led to jobs booking acts at various clubs, including Stu's Midtown Tavern, The Hideaway and Slow Ride Roadhouse.
As his immersion into the music scene increased, so did his health problems.
By the mid-1990s, Zuel topped out at 560 pounds.
"I remember nights when I'd pull into the parking lot and didn't have the energy or the strength to walk into the club from where I had to park," he says.
"But I weighed so much that they couldn't do surgery. They couldn't do a heart transplant. They were like, 'No way, you'd just die on the operating table.'"
Donor mystery
Fortunately, Merle slimmed down to his current 330 pounds, which made the transplant an option.
Also, since he had for years received treatments for his ailments, Medicare covered the cost of the operation.
"My primary reason for doing this benefit is to give something back to the system because it's been so good to me. I feel fortunate that I've had the ability to have Medicare coverage. I've been sort of a charitable case," he says.
Zuel is hoping to use his new lease on life to pursue other facets of the entertainment industry. He plans on exploring vocational training to learn some video skills. He'd like to start a company that produces music videos for bands.
"Before the transplant I was just happy to wake up. Now I wake up thinking, 'Yeah! This is a good day. I've got my whole life ahead of me. I can actually plan a future with my girlfriend and think about a career again,'" he says.
He also is interested in discovering more about the person who donated the heart.
"What they do initially is say, 'We can't tell you anything.' But you can correspond with the donor family, which the social worker will censor and make sure there's no personal identifying information. After a year's time - if both parties agree - they can meet," he explains.
"We always speculate. My girlfriend was saying, 'I hope it was a guy who liked to dance.'"