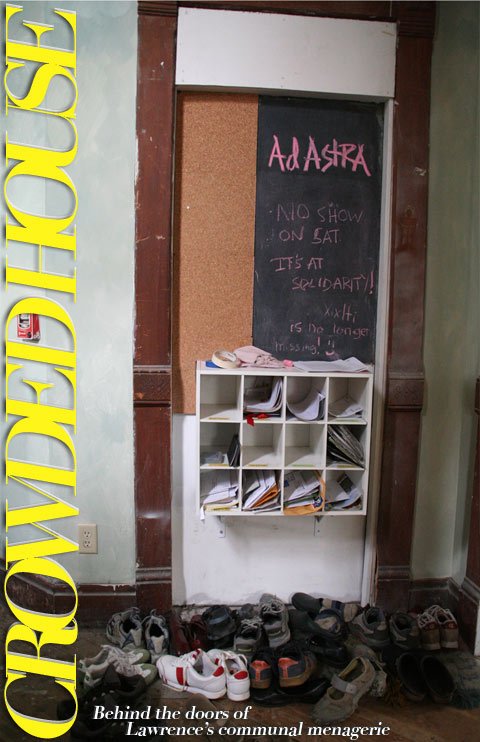 These people are strange.
There's the guy wearing the utility belt, and the guy lifting up layers of fungus in a pot and asking if you'd like to drink the liquid beneath, and the gals giggling so loudly as they sing "Ring around the rosey!" like maniacs.
These people live together in co-op houses that are not exactly clean but not exactly dirty.
Houses where people grow food and hold meetings to talk about their feelings and hang posters and paintings of gorillas and naked girls on the walls and doors and someone plants a "mysterious suitcase" in the middle of an empty room waiting for a curious spirit to open it.
Houses where strange people try to create meaning-and if your mother if not an aging hippie you might not want to show her where you live.
These communal houses are part of the fabric of Lawrence, and they range from fleeting and spontaneous arrangements that spring up between friends to the three established co-ops overseen by a board of directors-the Sunflower House, Ad Astra House and 1614 Co-op.
Not knowing anyone, if you knock on the doors of three of these houses, here's what you might see.
Sunflower House, 1406 Tennessee St.
MiShelle Youngblood sits at the kitchen table with a bowl of Cinnamon Toast Crunch ("my corporate cereal," she apologizes) and explains the current mood of the Sunflower House.
The house is mellow on spring days like this. Currently just 18 people occupy the cavernous 30-person house. But in the warm days between summer and fall, when residency hits its peak, the place is buzzing.
You see, the Sunflower House is alive.
Since its inception in 1969, the house has seen all brands of rebels and recluses, vegans and vegetarians and queers and hippies and everything else. A couple years ago, Youngblood says, "there was actually a Republican." Another recent resident was even conceived at the house in the 1970s.
From this house comes birth, comes life and rebirth.
"It's always changing," Youngblood says, "getting better, and slipping into worse, and getting better."
Remnants of the past line the walls. In a hallway upstairs there's a portrait of an old lady, with a girl's school picture stuck in the corner of the frame. Who either of the women are is a mystery, at least to Youngblood.
Junk sits abandoned in vacant rooms-in one a mattress, a coffee table, four cinder blocks, a pile of pennies and two empty bottles of beer, in another nothing but a bowl with a trace of dried cereal and a glass with an indiscernible brown liquid left in the bottom.
The house is cluttered and worn and flawed-and that's the point. It's a never-ending work in progress. Rooms have been painted-red and green and blue-and repainted-yellow and orange and purple. Decks have been built and rebuilt.
Everybody does chores-like cooking dinner or cleaning the bathroom-to earn "points," tallied on a bulletin board in the front lobby. Those who don't earn enough points pay a fine. House meetings are held every Monday, where problems are settled and decisions are made with a majority vote.
For the most part, things go smoothly, says Danny Spence, who has lived in the house since August. He mentions the parties that rage 'til 4 a.m. and the heated debates that take place where he's sitting in the kitchen, usually with NPR or KJHK going on the radio.
"When the house is full," he says, "there are 30 people here, all with differing opinions."
This evening the house is not full of people-but it is full of oddities. In one room there's a giant bookshelf filled with random books and a videotape labeled "Barefoot without embarrassment: uncovering the inside story on nail fungus."
Upstairs is a room that's empty except for a chair with a suitcase on it, set squarely in the middle of the room. Jared Suppasansathorn, an athletic guy with long, dark hair and a utility belt, smiles outside the doorway.
"The mysterious suitcase," he says, explaining he planted it there when he moved out of the room and into another. "No one's opened it yet."
Ad Astra House, 1033 Kentucky St.
Four pots sit atop a kitchen shelf.
Danny Possible, a thin guy with black-rimmed glasses and a brown shirt full of holes and patches, gently reaches up with both hands and brings one of the pots down.
He unties a string holding a piece of fabric to the top of the pot and unveils a concoction called kombucha, a liquid with layers of big pancake-looking fungi floating on top.
"Want to try it?" he says, dipping a mug into the sweet liquid beneath the pancakes and holding it out. To make kombucha, you take one of the pancakes, put it in another pot, add tea and a lot of sugar, and wait.
This, Studie Red Corn explains, is what living at the Ad Astra House is about.
"I walk into the kitchen and I see this big mushroom-looking thing," he says. "I'm like, what the heck is this? And somebody says, do you want to drink some? I'm like, no. I say no straight for a week, then finally have some. And it's great."
Red Corn, an original resident, helped remodel the historic house after it was trucked to its current location from 1309 Ohio St. three years ago.
Just about everything about the house is environmentally friendly, he explains, from the milk-based paints on the walls to the kitchen subfloor made of desktops salvaged from KU.
Of the house's 10 residents, about half consider themselves anarchists, says resident Matthew Blankers. Blankers, who is transgendered, says he feels a sense of openness and acceptance toward everyone in the house that doesn't exist everywhere. The place is a goulash of experiences and beliefs.
"There's people who are pretty radical with their politics here," he says.
Like at the Sunflower House, the furniture is mismatched, mostly left from former residents or salvaged from the dumpster, and the rooms are painted in striking colors.
A sign on one bedroom door says, "Please do not take yourself too seriously. Thank you!" A string of Tibetan prayer flags waves outside one bedroom window, and a gay pride flag is pinned up in another.
But to get back to the point: kombucha-if you want some as a gift, you know where to look.
"It's so easy," Possible says. "It's ridiculous. It should be illegal. It will be one day. It's so good for you."
The 'unofficial official F-U-N house,' 814 E. 13th St.
The East Lawrence house is big and white.
The front yard is a little overgrown, but the art and signs planted among the weeds lend it an air of folksiness over neglect, proclaiming things like "OUT OF PLACE LAUGHTER MAY BE STORED HERE."
On this night the mood is lively. People are walking in and out through the back door and making tea in the kitchen. In one room there is loud singing-"Ring around the rosey, pocket full of posies!"-and giggling as people play with a computer program that twists their voices into a kaleidoscopic sound.
The mood is also a bit nostalgic, as the house is in its last throes. Somebody points to a handwritten list on the fridge containing names of the 25 people who have lived here in the past three years.
Next month the seven people who currently pay rent will be gone, along with the spontaneous folk-singing sessions and baskets of sweet potatoes and guests from the circus.
The California man who owns the house stopped paying the mortgage some time ago, says his ex-wife, Anne Wilsey, and the bank is putting it up for auction next month.
Wilsey explains that her husband assumed ownership of the house when they divorced. She lived in the house for a while afterward with two roommates, then moved out a couple of years ago, others moved in, and somehow it just grew into this organic thing, with travelers crashing on the couch, and people growing their own food out back and sharing.
It's sometimes called the "fun house," says Jane Leek, who has lived here almost two years. "The unofficial official F-U-N house. Organizational disorganization."
There are no rules here. People don't have to do anything, is the point. Somebody can crash for a month and not pay a dime.
But work happens-lots of it. Residents and guests built a small makeshift greenhouse off the kitchen, and they "go dumpstering" and cook together. They grow herbs in a garden out back and sweet potatoes on some land in North Lawrence.
They used to tend to a big garden outside the house, where they grew tomatoes, squash and okra. But in the fall a larger, more expensive, sanitized version of group living-the Delaware Street Commons-moved in next door and bulldozed the garden, "so they could build a real community," says Paul Brooks, who has lived here for six months.
The place will likely soon be over with anyway, like so many houses before it. Maybe another will take its place.
Erika Ochoa, who has lived here for five months and off and on for the past couple years, says that she feels like she's moving out of her family's house. She passes by Leek's room in the second-floor hallway.
"She's packing her stuff," she says, peeking in. "I guess we all are."