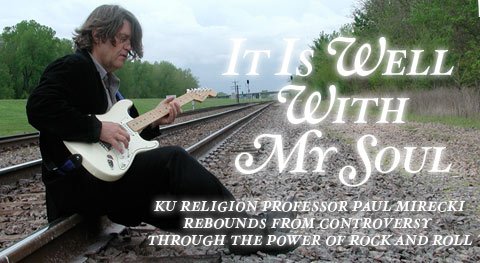 About a year and a half ago, Paul Mirecki made international news. Scourged by Christian fundamentalists for his derisive opinions of those lobbying for creationism in state science standards, and chastised by the University of Kansas for his incautious expression of those views, Mirecki resigned the chair of KU's religious studies department.
Soon after, Mirecki again made news, claiming to the press and the police that he had been pulled from his vehicle and beaten by fundamentalists. Photographs showed Mirecki with two black eyes. His alleged attackers remain unidentified.
What does a globally renowned authority on world religions do when the going gets tough? He plugs in his guitar and rocks. Mirecki formed the Aqua Furs, enlisting producer and bassist Chubby Smith, along with drummer Mason Powell and vocalists Lindsay Ramirez and Steven Swinney (all of Lawrence band Guse). Their aptly named debut album, "Psychedelic Aphrodite," includes the song "Far From Here" (originally called "Blues for Jesus"), in which Mirecki recites lyrics in Aramaic, Hebrew and Latin.
Street Level breaks cheeseburgers with Mirecki over a conversation about Jesus' face, the politics of religious fundamentalism, and why it's never too late to rock and roll.
No-fi excerpts from the podcast
First, let's talk about the Dead Sea Scrolls.
Mirecki: It was a big project to bring them here [to Kansas City]-a big security issue also. The main critique of the Union Station exhibit was that there weren't enough of the actual scrolls, and the ones that were there were very fragmentary : By the time you got into the awe-inspiring atmosphere, it was not very awe inspiring.
A component of the Dead Sea Scrolls exhibition was a series of lectures. Obviously, the first question is: why weren't you lecturing?
Mirecki: Well, I was embroiled in the pathetic creationism controversy at the time. I just wasn't in a situation, psychically, to make a decision on what I was going to be doing a year later. Also, I was concerned that if I threw my name into the ring as a potential speaker, they may not want me to come because of the controversy. I didn't want to create any problems for them. Any kind of public talk I do, or musical performance, would be a spectacle. I don't see myself that way, and I avoid those situations. In northeast Kansas, the Christianists-the fundamentalists-don't forget, don't forgive and keep grinding. They are gunning for anyone who's not like them. Very similar to the situation in the Middle East and Iraq-the name of the god is changed, the rituals are different, but it's the same politics. Fundamentalism is fundamentalism.
The current conflict between Christianity and Islam-where do you see this situation going?
Mirecki: I think we Americans are a bit naive in thinking that the Muslim world will forget this, once George Bush is no longer President-that we think Al Qaeda or the Islamicists will say: "Oh, they got rid of George Bush. Aren't the American people nice? Let's make peace with them." No. Al Qaeda is saying: "We're going to get you if it takes 500 years, 1,000 years." They have the stamina and the target, and Americans don't have the stomach for that. And we shouldn't have the stomach for that-we shouldn't have the stomach for world domination.
About a year ago, as you alluded to earlier, you were embroiled in controversy. Now you're about to release your first rock and roll album - at age 57.
Mirecki: It's fun.
Do you think those hard times were the catalyst for this expression?
Mirecki: No. I would say that a series of people that I've met-since November 2005, I guess-have really pulled me through all that. About 18 months ago, I changed my life in a big way, and I moved into a new place. And I thought: "This is what I want to do-I have these guitars, I have some basic ideas for songs. With a week's practice I'll be able to play what I could play when I was 21. It's all in my head and in my hands." So I started talking with Mason [Powell], whom I met at the university. He was one of the hardware people the computer company would send over to fix problems. He and I started talking about music. I went to hear his band. First time I heard Mason play, he was incredibly precise in all the different genres he played. So I approached him about starting something. I gave him an old cassette I had with two songs I had recorded in 1991. Then I ran into Jim Lee, who's also an excellent songwriter and guitar player and he recommended recording at Chubby's [Smith]. I went over to Chubby's place in October 2005 and played the cassettes for him and he said OK. So I kind of planned out a year or two to work on an album of songs that I would write and arrange.
Is putting out this record like getting something off your chest?
Mirecki: Not off my chest, but rather out from inside of me-something that's been growing and bursting out.
Will the fact that you're now a rock and roller undermine or influence your academic credibility at all?
Mirecki: Would it influence my academic credibility if I was a holy roller? There are a lot of professors around the world who are musicians. I don't see myself as being out of the mainstream.
You must understand that the spectacle you're trying to avoid is going to be an aspect of peoples' interest in this project.
(silence)
Any plans for live performance?
Mirecki: No, not really. It's one of those issues that gets back to the political side of things. The Replay would be a blast, though: