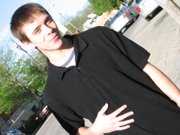 Anthony Brothers,
mysterious Lawrence streetwalker.
Save:
"I save money by not going out to eat, or by portioning my meals. That way I have food left to eat later, without having to buy more. I make an extra effort on Monday and Friday because they're close to the weekend."
Yield:
$15-20 per week.
Splurge:
"On Saturday or Sunday, I go out to an expensive restaurant. I'd like to say that, by 'expensive,' I mean something nicer than Applebee's. But that's the kind of thing I have in mind. Maybe Longhorn Steakhouse."
Cost:
$15-20 per weekend on one restaurant meal.