Photo Gallery
Style Scout: Brandy Lancaster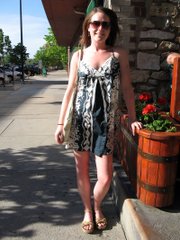 Brandy Lancaster
Occupation and/or major: Server at Free State Brewing Co.
Hometown: Branson, Mo.
Time in Lawrence: 10 years
Age: 28
What were you doing when scouted?
Hanging out and talking to friends on the Free State patio.
Favorite clothing store?
Am I supposed to say something cool like Wildman Vintage? Doesn't everyone say that? I like Wal-Mart.
Other stores you frequent?
Best Buy and Dillons.
How would you describe your style?
Comfortable. And I'm matchy-match. I have a color thing. Things have to match.
What would you never be caught dead wearing?
Crocs. Do people say Crocs? If anything should be done away with, it's Crocs.
Favorite trend right now?
Bright, primary colors.
Where do you get your haircut?
By Kayla, who is going to be working at Static.
Favorite coffee shop in Lawrence?
La Prima Tazza.
What does Lawrence need?
More places to dance. Any kind of dancing.
What could Lawrence stand to lose?
I'm pretty happy, I guess.
Patterns or solids?
Solids.
Tell us a secret.
I bruise easily.