Photo Gallery
Style Scout: James Anschutz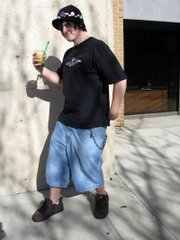 James Anschutz
Occupation and/or major: High school student
Hometown: Excelsior Springs, Mo.
Reason in Lawrence: Sister goes to college here
Age: 17
What were you doing when scouted?
My girlfriend and I just got bubble tea at Indo.
Favorite clothing store?
Hot Topic and Spencer's.
Other stores you frequent?
A lot of music stores.
How would you describe your style?
Punk. Or something. I'm not a prep.
What would you never be caught dead wearing?
Hollister or Abercrombie.
Favorite trend right now?
I don't really care what people wear.
Where do you get your haircut?
My Fair Lady in Excelsior Springs.
Favorite coffee shop in Lawrence?
Starbucks.
What do you like about visiting Lawrence?
All the people that are out-the liveliness.
Patterns or solids?
Patterns.
Tell us a secret.
I'm a woman. (Girlfriend groans and says, "No.") No, not really.