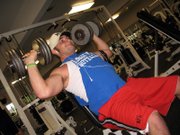 TOWNIE GUIDE TO: Workin' on your fitness
Blake Miller, website designer
Time in Lawrence: 4 years
Blake Miller isn't exactly a townie, having grown up in the suburban wilds of Kansas City. But he's spent the last four years in Lawrence, where he runs his own web design company and devotes much time to bicepular hugeness.
Here, his tips on getting lean in Lawrence:
Cardio: "Run through campus. There are lots of hills for a good workout, and it's scenic. There are public pools where you could swim, and sometimes I swim at the gym, but it kicks my butt."
Strength training: "Get a membership somewhere that isn't super crowded. I go to Lawrence Athletic Club on Sixth Street-it's nice to get a 45-minute workout done in 45 minutes. At some places, it takes an hour and a half."
Workout accessory of choice: iPod with armband.
Outdoors and such: "I take my dog to the dog park out by Clinton Lake and throw a ball around. If it's nice out, there are a lot of people out there getting some exercise."
Hooping and such: I don't really play basketball, but I have a lot of friends who play at the student rec. It's always so busy there. There are plenty of outside courts around town with more room, but that could be bad if you're looking for a pickup game.
Other outdoor workout spots in Lawrence: Frisbee golf at Centennial Park, running or biking along Kansas River levee.
Healthy eating and imbibing: "I eat Chipotle like five times a week. And I cook a lot. Lean, grilled chicken. Rice and salads. I try not to drink so much. I try."