Before the tornado struck Greensburg, as the looming mother storm that would spawn it cut its way through southwestern Kansas, Dick McGowan tried to stay as close to the action as he could.
He watched as the supercell spat down a little twister that danced on the ground and was gone. The second act was a skinny rope tornado that morphed into a larger stovepipe.
McGowan turned off the highway and onto a county road. As he focused on staying out of the ditch when the road turned to mud, his two friends in the SUV each kept one eye on the radar screen and another on the storm.
Lightning flashes told the story, illuminating a twister 300 yards to the northeast that morphed from a thin cone to a stovepipe to the 1.7-mile-wide Greensburg tornado in a matter of minutes.
Excitement shot through the Blazer as it must have spread through the dozens of other vehicles trailing the storm. This was a storm chaser's dream-watching an F5 tornado form before your eyes.
McGowan turned onto the highway and kept north, following the storm's path of destruction toward Greensburg. As they came within miles of town, a man came running out of his basement and flagged them down to say his house had been hit. Then there were the downed powerlines, the cows limping across the road-the horrible stink.
"As we were going into Greensburg, it just hit us," McGowan says. "We just couldn't believe our eyes, what we were seeing." (Video of from their car available on their site, tornadolive.com.)
Chasers
McGowan, of Olathe, is part of a vast, well-connected network of people consumed by storm chasing.
Photo Gallery
Storm chaser Darin Brunin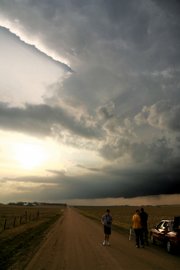 He and his storm chasing partner, KU student Darin Brunin, travel upwards of 10,000 miles a year, jumping into the Blazer and following storm patterns wherever they lead, from the north country to the Mexican border.
"A lot of people say it's a hobby," says Brunin, an atmospheric science and geographical information science major. "For us, it's more than that. It's a lifestyle. We live for it every day. If there's 8 inches of snow on the ground, we're thinking about tornadoes."
Brunin and McGowan met through a storm chasers forum two years ago. Storm chasers throughout Tornado Alley and elsewhere share tips through websites such as stormtrack.org and stormchasers.org and go to training classes held by the National Weather Service. When the chance of a tornado is high in a small area, the roads can become packed with chasers from all over the country.
"You'll get what they call a convergence," McGowan says, "where there's just hundreds and hundreds of cars out there."
To track storms and capture them on film, McGowan and Brunin bring along thousands of dollars of equipment.
Two still cameras and two video cameras hook into a mount McGowan drilled into the dash of the SUV. A floorboard mount harnesses a laptop where they watch radar and check data online through a cell phone card. Two GPS units-one hooked up to the window so McGowan can see and the other to the laptop-show where they are.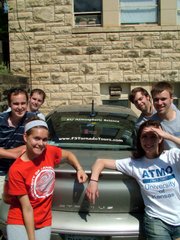 "We kind of refine our target as we're on the road," McGowan says. "Things drastically change. I mean, it could always be in one area and then it could be 150 miles to the west three hours later. There's a whole lot more that goes into storm chasing than just jumping in your car and driving to a storm."
Thrill of the chase
Brunin estimates that on four out of five of trips they don't see a tornado.
"I've driven to South Dakota for partly cloudy skies before," McGowan says. "For nothing."
For chasers like KU student Lauren Hoff, those fleeting moments when a tornado touches down-with the wind beating and the lightning flashing-make hours of fruitless driving worthwhile.
"It's one of the scariest things you'll ever do," she says, "but it's also one of the top adrenaline rushes and one of the best things you'll ever do in your life."
Hoff - who is among just 2 percent of storm chasers who are female, according to stormtrack.org-is part of a group of KU atmospheric science students who go chasing throughout Tornado Alley. Some of them are even trying to set up a storm-chasing tour business (the website, f5tornadotours.com is up and running, but they're working on the difficult business of writing up an insurance waiver).
Photo Gallery
Storm chaser Dallas Smith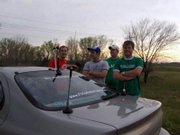 For many storm chasers from Kansas, childhood experiences play a role in their intense fascination. Tornadoes twice struck KU student Dallas Smith's hometown, Haysville (just outside of Wichita), as he was growing up.
"I've cleaned up after a tornado twice," he says. ": I think that has a lot to do with it."
And there is that element of danger-just seeing how close you can get. McGowan describes a close call that happened a year ago when they were chasing a fast-moving storm near Sedalia, Mo.
"We thought we could beat the tornado to the south," he says, "and we didn't. We actually drove into a tornadic circulation. Debris was hitting our car. It only lasted a few seconds. It was probably the scariest moment I've ever had in storm chasing, besides the other night."
Chasing the wind
For serious storm chasers, the brief shot of adrenaline at the sight of a monster tornado is only part of the equation. Storm chasing is also about witnessing the beauty of the raw power of nature-and it's about the individual's power to help save lives.
Storm chasers continuously report data to the National Weather Service, either by phone or online, and influence when tornado watches and warnings are issued.
Jennifer Ritterling, a meteorologist with the National Weather Service office in Dodge City, says chasers called in several reports the night Greensburg was hit.
"A lot of times, local law enforcement will have their own spotters, but these guys will follow the storm along, and they're pretty knowledgeable," she says. "It's very good to have eyes in the field, because our radar isn't perfect."
After the tornado struck Greensburg, chasers started searching for survivors before more help arrived.
"People were stopping us, asking us if we had seen so-and-so, if we knew if so-and-so's house got hit, had we seen their dog, do we have a cigarette, do you have a cell phone, questions like that," McGowan says. "We tried to help out as much as we could."
Photo Gallery
Storm chaser Sean Wilson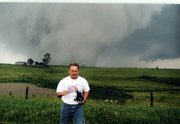 Sean Wilson, a chaser who works in Lawrence and lives in Lee's Summit, Mo., says that with 95 percent of the town destroyed, "it was probably the most helpless feeling I've ever had in my life."
Yet he was able to save one woman, pulling her out of what used to be her basement after he and a group of firefighters and police officers spent 45 minutes digging through rubble to get to her.
"I think every storm chaser has a desire to see an F5," says Wilson, who runs a storm-chasing tour business called Blown Away Tours on the side. "They're so rare-I think 1 or 2 percent of all tornadoes are that violent. They're very, very rare, so when you see one it's just like a reward. It's like a treasure, like a big game hunter would find the big grizzly bear or something like that.
"When you have an event take place like happened last Friday where that prize turns into a monster-it was so violent, got so big-when it heads into a community like Greensburg it's just one of those things that you would rather give that prize back just to have that community restored, put back the way it was before."
Speaking days after the Greensburg tornado, McGowan was still shell-shocked by what he'd seen on the night of May 4.
"I'll never forget the smell of it," he says. "The smell was-it just gave you this sick feeling in your stomach. It smelled of gas, trees, rain. I can't even explain it. It's something that'll stick with me for the rest of my life."
After spending hours searching the town for survivors by the light of their cell phones, McGowan, Brunin and their friend Derek Shaffer left when other help arrived.
"We couldn't find a hotel, and we got into Wichita about 4:30 in the morning," McGowan says. "Didn't sleep a wink. And chased the next day. Saw eight more tornadoes. One from 30 yards away, one from 200. It was just crazy. We need to stop getting so close. It's like we get a little braver each time."
Brunin's friends Joel Taylor and Reed Timmer recently shot this INCREDIBLE video near Ellis, Oklahmoa.