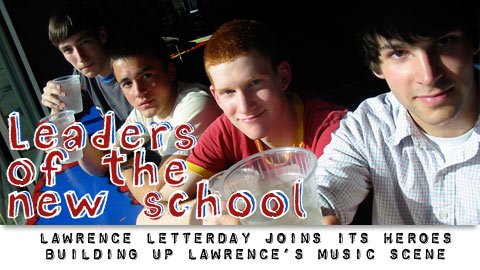 When Lawrence Letterday formed two years ago, they figured they'd try to launch their musical careers with a bang-by opening for the Get Up Kids.
So they called someone who they thought could arrange a show with the celebrated local group. Trouble was, that person wasn't the band's booking agent or the like-it was the Lawrence Journal-World's entertainment writer, Jon Niccum.
What happened, of course, is the junior high students got laughed at.
"They were such a big influence," drummer Isaac Flynn says, "and we'd all been listening to them for quite a while. We were just trying to get some shows under our belt. The second we started playing we were like, 'Alright let's go on tour.' But obviously that wasn't going to happen."
Unfazed, the band of four Free State High School sophomores kept at it and now, two short years later is opening for former Get Up Kids guitarist Jim Suptic and his band, Blackpool Lights.
And they're doing their best to boost Lawrence's high school music scene with a loosely defined concert series they're calling Lawrence Letterday Fridays. This Friday's show at the Bottleneck, with Blackpool Lights and Kansas City band Jackie Carol, is the second of what the band hopes will eventually be monthly all-ages shows.
Past Event
Friday, May 18, 2007, 5:30 p.m. to 9:30 p.m.
Bottleneck, 737 New Hampshire, Lawrence
All ages / $5
"The idea is just to really give a strong scene to the high school kids," Flynn says.
Meanwhile, Blackpool Lights drummer Billy Brimblecom says he's happy to be taking part in the cycle of local bands influencing younger local bands and their fans-after all, that's how he got his start while growing up in Johnson County.
"Back in the day, like in the early '90s, when Lawrence was quote-unquote 'the next Seattle,' the two biggest bands to come out of that area that got signed to major label deals were Stick and Paw," says Brimblecom, 30. "I was really, really influenced by Stick because I thought they were just heavy and bad-ass.
"The awesome coincidental thing about that was when I was 18 I ended up joining the band. : That pretty much set the trajectory of my whole musical career, to be honest."
Band songs
Lawrence Letterday
Jackie Carol guitarist and vocalist Greg Franklin, 30, tells a similar story from his days growing up in Olathe.
"I actually got into the Bottleneck before I was 18, and started going to go see shows and stuff there," he says. "I met the guys in Kill Creek, and that was kind of what really got me plugged in to the local music scene in terms of just meeting people and getting tapes handed to me that were of local bands."
Franklin says he's happy for the opportunity to play for a younger audience than typically shows up to late-night 21+ shows.
"If you can get enough kids in there that are paying the $5 to get in and see a show and are behaving themselves and not trying to wipe the Xs off their hands or whatever and get a beer, and just be there to enjoy the music, I think that's awesome," he says.
"I'd rather play that kind of atmosphere than a bar full of late 20s/early 30s people, my generation, that are completely more interested in having a drink than partaking in what's going on."
While Lawrence lacks venues that cater mainly to a high school audience, like El Torreon in midtown Kansas City, the guys in Lawrence Letterday say they don't mind.
"I enjoy it more because it's like, 'Hey this band that's my favorite band that's on tour right now, I just saw them last week here and now I'm playing,' " Flynn says.
Brimblecom, who has known Flynn for years through his parents, says if he can have a similar impact on Lawrence Letterday that earlier Lawrence bands had on him, he's doing his part to keep the scene vibrant.
"That's what it's all about," he says. "It's great that people can say, oh, the Kansas City and Lawrence music scene isn't what it used to be, or it is, or it's better than ever or whatever you're opinion on it is-the bottom line is there has been a lot of really great music always that's come out of our area, and I'm really proud of that."