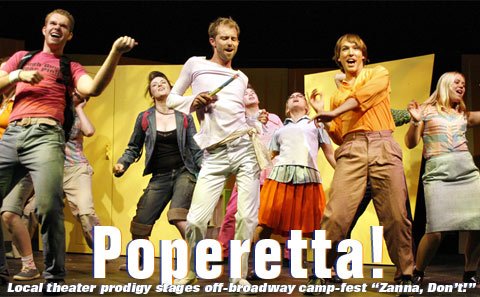 When asked how his butterflies are doing on the eve of opening night, director Steven Eubank grudgingly admits, "They are accumulating nicely, thank you." You would think that this young theater savant-who staged his first production at the ripe old age of 14- might have already, at 23, mastered the jitters. Eubank, however, feels that his latest endeavor has much more riding on it than any of his previous theatrical outings. "Zanna, Don't!" is an award winning off-Broadway musical by New York playwright Tim Acinto that is festooned with bright colors, flamboyant rock ditties, and very gay sensibilities. It's right up Eubank's Tin-Pan alley, though, considering he's staged similarly gender-bending works "The Rocky Horror Picture Show" and "Hedwig and the Angry Inch" here in Lawrence. Steven Eubank squeezed us in between rehearsals at the Just Off Broadway Theater in Kansas City to discuss how he's hoping to outdo himself with "Zanna, Don't!"
lawrence.com: Other than being a play on the word "Xanadu," what is "Zanna, Don't!"?
Steven Eubank: It actually has nothing to do with "Xanadu" the Olivia Newton John movie. "Zanna, Don't!" is about a magical matchmaking teen who uses his powers to help his friends find love and maintain love in a world that is entirely gay, where heterosexuality is kind of within the minority.
It's not quite a "rock opera," but it has a pop-rock soundtrack?
It does, yeah. The show only runs about 100 minutes, so I guess someone might even say it's kind of like a "pop operetta"-even though there is a lot of scene work. There's a very nice, fresh and full pop score that also kind of dabbles in country and western and folk.
Is it basically a kinder, gentler "Hedwig and the Angry Inch"?
Past Event
Friday, May 25, 2007, 8 p.m.
Just Off Broadway Theater, Penn Valley Park, 3051 Central St., Kansas City, MO
All ages / $12 - $18
Hopefully. It has a very similar appeal as "Hedwig" in terms of that idea of finding acceptance, and finding wholeness, within yourself. Whereas "Hedwig" kind of appeals to the rock audiences-especially the emo, punk and hard-rockers-"Zanna, Don't!" will hopefully kind of appeal to pre-teens, or people who are just hopelessly in love in their mid 20s and 30s, or people who are looking back and trying to remember what it was like to be foolishly in love when they were in their youth.
How does "Zanna, Don't!" fit in with the larger mission of your production company, Eubank Productions?
One of the reasons that I love "Zanna, Don't!" is because it's kind of fresh, and kitschy, and candy colored. I'm always trying to do shows that are a little bit quirky. There'll be a lot of fun, and fluff, and camp-which is very us and what we like to do. Hopefully people will walk away just kind of with a lighter spirit and a strong message as well.
Is there a "gay theater scene"-if that's not redundant-in the Kansas City and Lawrence communities?
I think so. The gay, lesbian, transgender and straight ally community seems to be very strong:it's kind of fun that there are other theater companies that will do gay or gender pieces. There does seem to be a broad audience, and I think the Eubank Productions crowd tends to have a lot of people who fit that lifestyle.
How old were you when you first got into theater?
I first fell in love with theater when I was 4 years old, because I had babysitters who were involved with productions and would take me to go see shows. That's when I was bitten.
You've been tagged a theater wunderkind-does that add an extra layer of expectation and stress to your work?
Oh, always! I am feeling the most pressure with "Zanna, Don't!" than with any other production, just because I felt like I had a lot of artistic success last year. It was a very exciting time doing work in Kansas City. I really want to see this one succeed and I really want everyone to fall in love with this piece. If anyone is giving me credit for being prodigious-or precocious-in my field, then certainly I would like to meet expectations.
You staged "Rocky Horror" and "Hedwig" here in Lawrence-any plans for future productions?
Both ("Hedwig" and "Rocky Horror") were awesome opportunities for Eubank Productions and seemed to be very successful with the audience there in Lawrence. Yeah, hopefully we'll end up there again very soon. I'd love to talk to someone there about "Zanna, Don't!" It's just a musically beautiful fable that I think Lawrence