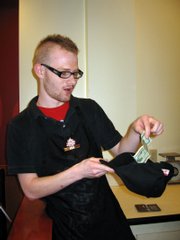 Dan Luckey,
18, KU freshman majoring in economics and mathematics, ice cream slinger at Cold Stone Creamery
Save:
"I actually hide money from myself. When I get tips from work, I take them home and put them in drawers or in pairs of pants I won't wear for a while. That way I'm less likely to spend it right away. Then, when I find it, I get really excited and put it toward savings, rent, car insurance, living expenses. Rather than spending it on going out when I get off work at 11 o'clock."
Yield:
$50 per week in stashed tips.
Splurge:
"I let myself spend money on going out. Also on pizza and Jimmy John's."
Cost:
$50 per week in going outage.