Photo Gallery
Style Scout: Chris Bittinger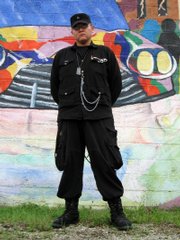 Chris Bittinger
Occupation and/or major: artist
Age: 19
Hometown: Lawrence
Time in Lawrence: Whole life
What were you doing when scouted? Leaving my job at Van Go Mobile Arts.
Favorite clothing store? Wal-Mart. I've been wanting to check out Midwest Surplus in North Lawrence.
Other stores you frequent? Best Buy.
How would you describe your style? Tactical. A lot of my mom's friends are like, 'what's with your kid?' My clothes kind of scare people, with recent national events. But I actually have a life. The boots are for wear-and-tear. I went through a lot of tennis shoes as a kid-my feet were big. Needing something durable was the main reason for the boots.
What about the black? Mystery. Some people think of it as a bad color.
Do you? No. Johnny Cash said he wore all black because he felt the suffering of people around the world so deeply : My reasons are something like that.
Do you ever wear a white shirt under the black Dickies shirt? No.
White socks? No.
Is there any trend that gets your stamp of approval? Cargo pants.
Anything you wouldn't be caught dead wearing? Plaid.
If you were a girl, how would you dress? Probably the same way. Well, I saw this girl on a promotional CD for the Nintendo Wii. She had long hair, spiked and braided. She was wearing a skirt, a black shirt, stockings and boots. Maybe I'd dress like that.
Favorite coffee shop in Lawrence? I do energy drinks.
Is there anything you'd like to see more of in Lawrence? Self-expression.
Less of in Lawrence? I don't think so.
Pretty impressive that you sewed the bottom pockets onto your shirt. I took them off a vest. Then I moved the Dickies label up to the top pockets. I also took the bottom of this shirt in so it fits just right. At this point I can use my mom's sewing machine better than she can.