Photo Gallery
Style Scout: Liz Prosser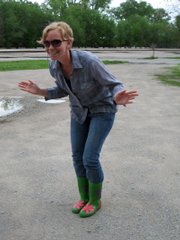 Brandy Lancaster
Occupation and/or major: Cook at Pachamama's
Age: 27
Hometown: Lawrence, but currently resides in Eudora.
Time in Lawrence: 26 years
What were you doing when scouted? Exploring volunteer opportunities at Van Go Mobile Arts.
Favorite clothing store? Goodwill.
Other stores you frequent? The Merc.
How would you describe your style? No style. I like to surprise myself daily. I walk the path of least resistance. Versatile.
Favorite trend right now? I don't really pay attention to it. But the whole flapper style-I think that's coming back. I like the notion of being a little rebellious in a feminine way.
Your extremely short hair is pretty rebellious, no? Last year it was down to my waist. First, I took off eight inches. Then, another six. I just recently cut it all off, and it was at my shoulders. I don't really cling to it like I used to. It's just a form of false attachment.
Who cuts your hair? Julie Lassley at Color Studio.
What's something you wouldn't be caught dead wearing? Flip-flops. I can't stand the sound. It seems very sluggish. I wanna get to a place without resistance.
Favorite coffee shop in Lawrence? I don't go to coffee shops.
Not a coffee drinker? I drink coffee. I just don't go to coffee shops.
Favorite bar? I hate bars. Well, I don't hate bars. I don't care for them.
Is there anything you'd like to see more of in Lawrence? I would like to see more of a community outside of Mass Street. Like European style, where you can walk in the streets and shop and it's not homogenous. A marketplace without the parking lots and cars.
So you dig the development ideas for walkable, urban-style neighborhood west of Sixth and Wakarusa? I don't know if that will work. I think what draws everyone to Mass Street is the history. The old buildings tell a story. New buildings don't.
What would you like to see less of in Lawrence? Asphalt.
Do you wear those boots even when it's not raining? Today was specifically due to the rain, but I've worn them on other days.