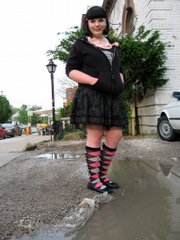 TOWNIE GUIDE TO: A Rainy Day
Jasmin Messenger, 24, tech support for a web hosting service
Townie credentials: Has been in Chicago the past eight months but is visiting Lawrence, where she lived from fourth grade onward
What to do when Lawrence is flooding: "I always just like to go hang out in a coffee shop or go see a movie. Or you can hang out on the back porch of Harbour Lights and drink a beer and watch the rain. That's what I did all day yesterday. They have a tin roof over the porch, so you get to listen to the rain. Then you can walk over and get a piece of pizza from Papa Keno's-makes it convenient in the bad weather."
Streets to avoid when Lawrence is flooding: "Sixth Street is always pretty bad on the far lanes, but it's OK if you stay toward the middle. And east 23rd Street-anywhere near the Wetlands gets pretty bad."
Puddle etiquette when people are around: "Stand on the edge of the puddle, and only splash it in your heart."
Townie leaves town: "I'm actually visiting right now. I had to come back for family stuff. I've lived here since I was in fourth grade, and I just moved to Chicago. I've been there eight months, working for a web domain company. Chicago is a pretty cool town. But it's nice to come back."
Required pit stop during limited townie visit: "I'm on my way to meet some friends at Free State for dinner."