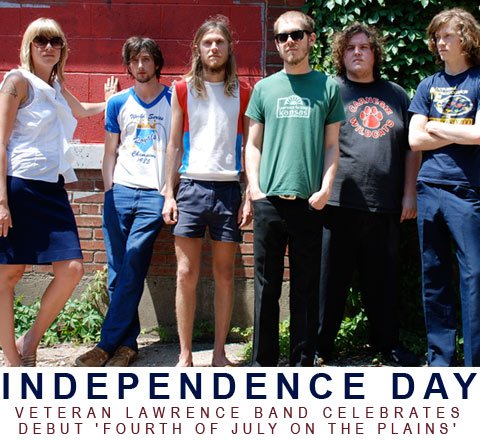 After some five years of playing around town, Fourth of July is finally preparing to release its first full-length album. The wait paid off in the form of a supremely rehearsed sextet that laid down a vibrant collection of tracks full of harmonies, keyboards, horns and tambourines.
Locals who have been following the band's evolution will hear the realization of its potential as well as the excitement of proving it to the world. Lawrence's Range Life Records will utilize its distribution deal with Omaha's Saddle Creek Records to spread the good news about "Fourth of July on the Plains." In the meantime, the brothers Hangauer-Brendan, Kelly and Patrick-and the extended Range Life family will celebrate the record's grand unveiling June 2 at The Bottleneck.
lawrence.com: Tell us a bit about how this record was made.
Brendan: We recorded it at Mixtape Soundlab, right here in the heart of Lawrence, with our friend Ben Jackson, and then mixed and mastered it with Jim Vollentine in Austin, the same place where "White Flight" was mixed and mastered. Steve Squire maybe turned a knob or two when no one was looking.
Why did you decide to go into a studio? Initially, your recordings were mostly done at home.
Brendan: I think that we did it mostly so we didn't have to deal with the hassle of getting everything set up. We didn't want a really home-recorded sound. I think before I just did it because I didn't have any money to invest in going into a studio.
It seems like the band has really developed over the course of the last year.
Kelly: Steve Swyers (guitar) is a friend of mine from high school. I met him in physics class junior year : He's a really classy, talented guitar player.
Brendan: And that was after Kelly had recommended Brian Costello, our new drummer, and we're so happy with him : We just kind of got people who were more in tune with the songs.
Including Adrienne Verhoeven-is she a permanent member of the band?
Brendan: We've played a couple shows where she had to be out of town because she does a lot of other things. But she's definitely a permanent member and she sings all over the album : It just really clicked with this album with everybody; everybody feels really involved.
I think one of the things that makes this record work so well is that you have all these people singing. How many people do sing?
Brendan: It's basically just me and Kelly and Adrienne. Bronco-our drummer-sings one line in the second song.
So a lot of the lyrics are kind of day-in-the-life. It seems mostly drawn from personal experience, but I could be wrong.
Brendan: I think you're right. That's basically all that I ever write about-just trying to express things that are going on in my life or things that I see : I like to listen to Townes Van Zandt and people that that's what they talk about. I think it's really interesting and insightful. I don't think it'll make other people as uncomfortable as maybe some of my old stuff, because I think this is way more accessible and not as sad.
There's a thread of hope.
This is way more optimistic, for sure.
And how much DO you drink?
Brendan: Not very much. Just like a beer or two every now and then.
Tell me a bit about the plans for the release of this record.
Brendan: We're having a big CD release show June 2 at the Bottleneck, and it's mandatory for anybody who listens to this or knows us in any way : We're in the works getting a Midwestern tour together with help from Jacki Becker and different promoters around town. We're going to dive into it and try to at least play for a couple people a night.