Photo Gallery
Style Scout: Zoe Marinovich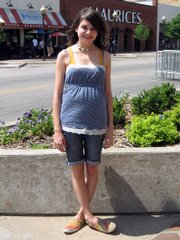 Zoe Marinovich
Occupation and/or major: High school student
Hometown: Kansas City, Mo.
Reason in Lawrence: Mother's Day outing
Age: 17
What were you doing when scouted?
We just finished lunch for Mother's Day at my mom's favorite restaurant, The Mad Greek.
Favorite clothing store?
Anthropologie. But it's expensive.
Other stores you frequent?
It's a Beautiful Day in Westport. The people are so nice.
How would you describe your style?
I don't like to get too dressy. I like lots of color, small patterns, maybe solid colors layered.
Favorite trend right now?
Little cut-off jeans, knee-length shorts like I'm wearing.
Anything you wouldn't be caught dead wearing?
A leopard-print, pink cowboy hat.
Where do you get your haircut?
I cut it myself.
Favorite coffee shop in Lawrence?
I don't know Lawrence that well. But I like YJ's in the Crossroads.
What do you like about visiting Lawrence?
Rudy's Pizzeria. It's the best pizza in the world. And I like that there are lots of different types of people walking around in the same place.
Is that not true of Kansas City?
There, a lot of people just sit in their cars all day.
Who has style?
Nobody will ever be like Audrey Hepburn.