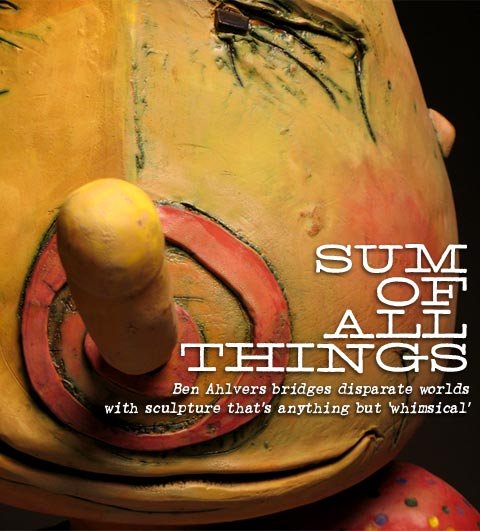 Ben Ahlvers grew up in Granite City, Ill., a blue-collar town northeast of St. Louis. Like all manufacturing towns, it's struggling: the community profile website glosses over the "in transition" downtown culture and promotes the ease of parking at Wal-Mart.
Like the website, Ahlvers' sculptural ceramics initially seem to belie the working-class roots of Granite City. Colorful, playful, whimsical (a word he hears but "doesn't like") are adjectives many tag onto the forms, words thousands of miles away from the steel plant that once anchored his hometown. Closer inspection, however, reveals an exploration and commentary that runs deeper.
"I want there to be a sort of edge to it," Ahlvers says. "That edge can come from the piece itself or within the context of a whole exhibition. I like the tongue in cheek. I'm fairly sarcastic most of the time. I think that kind of comes out a little bit with the work."
The faces of his bumblebee figures reflect a pathos unexpected in such sunny-day images. Although subtle, they nonetheless appear pained, or uncomfortable, or sad and tired, yet proud. Seeing this changes the context: Ahlvers is not working with happy springtime meadow images. These are worker bees, drones, tired from a day or a lifetime of tedious work.
Past Event
Thursday, May 24, 2007, 7 p.m.
4-1-1 Studio, 411 E. Ninth, Lawrence
All ages / Free
Ahlvers' sarcasm and handling of clay is reminiscent of Robert Arneson, David Gilhooly, and others of the California Funk movement of the '60s. Arneson was one of a few ceramicists who led the medium from the craft ghetto and into the world of fine art. His images, although playful and cartoonish, were politically tinged satire that eventually evolved into straight-ahead social criticism.
Ahlvers' handling of clay as a sculptural medium continues the tradition, though his message is more subtle, more Midwestern-viewers aren't hit in the head with it. Instead, the image and the emotion are inextricably tied together. The works are saturated with feeling. To declare that a particular piece is a statement-say, the plight of the labor class-is to rob that object of its sovereignty, its whole individualism.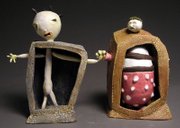 The jack sprat couple of "Draining," for instance, cannot be seen simply as a rhetorical attack on the taxing qualities of relationships (perhaps) without dismissing the fine details, the emotive lines and sadness, the distressed surface. There is a complexity to this work, like all of Ahlvers' sculptures, that can be revisited and reinterpreted-the plasticity of the artwork may remain static, but the message continually evolves with the viewer.
Looking to avoid a difficult high school career, Ahlvers enrolled in an art class because, at the time, art counted as a foreign language credit. (Funny, yes, but a layman can probably translate an ancient Latin text with more ease than a Matthew Barney video.) At Southern Illinois University in Edwardsville, Ahlvers focused on drawing; a ceramics requirement changed his direction.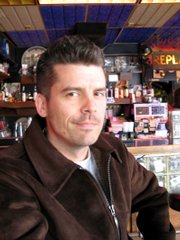 "I really did like the physicality of everything having substance," he says. "I enjoyed the process. It was fluid enough that you were always doing something. There are a lot of variables ... certain consistencies within the clay-how you dry it, how you fire it, how you glaze it-it's all about repetition.
"It's sort of that blue-collar blood in me. I can do those warehouse jobs, doing the same thing over and over again and not go too crazy. At the core of my experience there, that was probably it."
Drawing, however, remains an influence. These days, Ahlvers finds himself more inspired by two-dimensional work. "That's certainly more to my roots," he says. "I even teach that way: 'Think about it as a sketch, keep things loose, line as you go, the whole composition.' The thing that I concentrate on is the balance between surface work and the three-dimensional component of it.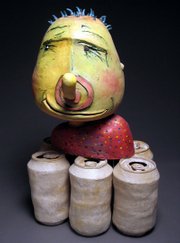 "I love the pushing and pulling, making a mark and then adding some clay, then going back in and kind of building up the surface : [It's] very challenging for me to be satisfied with it, to not make it like two separate things, the drawing laying on top of the surface."
It's this cohesion that signifies Ahlvers' work: his working-class heritage with an artist's life, emotional concept with material object, two-dimensional line with three-dimensional form, process with product. He's an artist who straddles disparate worlds, bridging them as if they were always connected.