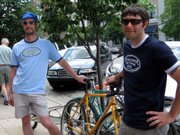 TOWNIE GUIDE TO: Cycling Lawrence
Paul Davis, (left) manager of Sunflower Outdoor & Bike Shop and employee Shay Brown.
Combined years in Lawrence: More than a decade.
Where should one cycle in the Lawrence area?
Brown: "We're a town in the middle of a lot of country roads. There's a lot of paved, non-trafficked roads around."
Davis: "For hills, go to Palmyra : a township 10 miles south of Lawrence."
How do you get to Palmyra? I've lived here nine years and have never heard of it.
Davis: "Don't ask me for clear directions. A Lawrence person's directions are like, 'Turn right at the red barn.'"
(Note: Don't bother asking the internet for clear directions either. Online maps haven't heard of 'Palmyra,' except for a couple streets in Baldwin, a town 20 miles south that some say used to be called Palmyra. There are hills east of there, near the location of the Battle of Black Jack and the Santa Fe Trail cross-through-ed.)
What about mountain biking? We are without mountains.
Brown: "The Kansas River levee has a nine-mile path. There are a lot of trails around Clinton Lake. And Perry Lake has probably the premiere mountain biking course in the state. It's 15 miles long, with different levels of difficulty."
Davis: "It's got a little bit of everything."
How would you rate Lawrence, as a cyclist-friendly town?
Brown: "On a scale of one to 10, I'd give it a six."
Davis: "There are a lot of areas that are cyclist-friendly. And there's areas where they'd just as soon chop you down with a machete."
Brown: "Or run you over with a car."
Davis: "That would make more sense."
So where can cyclists turn for maps and other resources?
Brown: "The Lawrence Bike Club. They have a lot of helpful information."
Davis: "And our store-people come in all the time asking where to go."