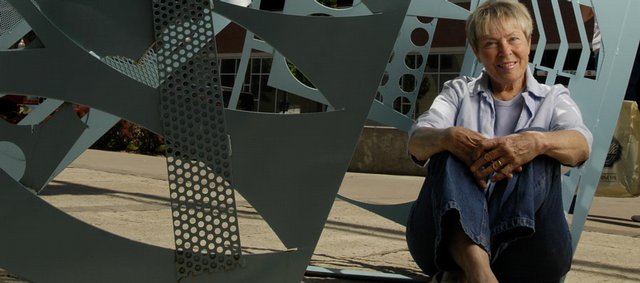 Photo Gallery
Downtown sculptures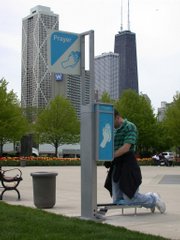 Past Event
Saturday, May 26, 2007, 5:30 p.m. to 8:30 p.m.
Downtown Lawrence, Lawrence
All ages / Free
When she's not in her studio, Lawrence artist Jan Gaumnitz spends most of her spare time in the garden.
So it's not surprising that a lot of her work is inspired by nature.
"We're kind of out in the country and I'm a big gardener, so I like to be outdoors as much as I can," she says. "I think it's kind of something you absorb - the interaction with nature and respect and admiration for it."
That interaction led Gaumnitz to create "Prairie Winds," a large steel sculpture that will be anchored for the next year in front of the Lawrence Arts Center as part of the 20th Annual Outdoor Downtown Sculpture Exhibition.
Gaumnitz started with leftover sheets of industrial metal - each with a pattern cut out of it - and then guided a fabricator, who used a machine to curl the ends in different directions to indicate movement.
"What I'm hoping to convey is the feeling of the wind as it blows over objects like grass and makes them sway or curl or fly up in the air or whatever," Gaumnitz says. "I was trying to translate an abstract act of nature into something three-dimensional and solid that people could possibly look at and say, 'Oh, that does have the feeling of the wind.'"
Seven other artists from as nearby as Kansas City, Mo., and as far away as New Cuyama, Calif., also were selected for the show by juror Glen Gentele, director of Laumeier Sculpture Park in St. Louis and the Aronson Endowed Professor of Modern and Contemporary Art at the University of Missouri-St. Louis.
Gentele says the pieces he selected vary greatly in form and expression and that everyone should be able to find at least one they like.
He sees public sculptures as pleasant surprises in everyday life.
"They really add to the larger human connection to their surroundings and their environment," Gentele says.
"Not only do they help to beautify - because it's not always about beauty - but they help create a dialogue, an experience that is heightened for individuals who go from point A to point B within a given space, and to visitors who pass through a given city or neighborhood and find these unexpected jewels."
Curious stares
Twenty-eight artists from 17 states and the District of Columbia submitted 50 works of art for consideration in this year's show, sponsored by the Lawrence Arts Commission. Those selected for the exhibition received a $750 honorarium.
The sculptures have been appearing downtown one at a time over the last few weeks, installed by Lawrence Parks and Recreation crews to replace pieces that had been in place since last spring.
Passers-by have been doing double takes as they notice the new artwork. One piece in particular - "Prayer Booth," by Dylan Mortimer - has drawn curious stares. It looks a lot like a phone booth, except that it's on the sidewalk in front of the Eldridge Hotel ... and there aren't many phone booths along Mass. Street.
Upon closer inspection, one notices a pair of folded hands and the word "Prayer" printed on the 8-foot-tall booth.
Mortimer, who also works as a pastor at Rivercity Community Church in Kansas City, Mo., says the sculpture was inspired by thinking about how private faith functions in the public sphere.
"I hope the piece causes people to ask questions about their own faith and how it relates to other people," he says. "I hope to spark thought and dialogue about religion in the public sphere - a topic that is often avoided and often treated cynically by the art world."
Rhythmic and poetic
Also drawing interest has been Christopher Fennell's "Hedgehog House," a collection of rough wooden boards fixed together, treelike, and placed to create an entry archway over a sidewalk in South Park.
The Birmingham, Ala., artist is becoming known across the country for work that recycles the environment. Fennell reassembles found objects - manmade and natural - into structures that reference waves, tornados and pillars of fire.
Gentele describes Fennell's work as beautiful and dramatic, and says his piece in the Lawrence show is no exception.
"I don't think you can help but find it to be intriguing and attractive and rhythmic - almost musical in a way," Gentele says.
Similarly, Gentele finds Joshua Weiner's "Breathe" to be a very "poetic piece" that's uplifting and fun.
Weiner, who lives in Boulder, Colo., says the marble and steel work came about after he read that scientists are now suggesting all of the world's oceans be placed on the endangered species list.
"I wanted to pay homage to the sea with a piece that illustrates how the ocean is part of all land life," he says. "So I created a stone sculpture which is composed of compressed sea creatures (found in the marble)."
Decent exposure
Ken Pierce's "Evolution of Flight," perched at the southeast corner of Sixth and Massachusetts streets, looks like a bird soaring sideways through the air. Upon closer examination, however, it becomes clear that the sculpture has the fuselage of a plane.
"Since the days of Leonardo da Vinci's mystical flying machine to the short but successful flight of the Wright brothers, man strived to fly like a bird," says Pierce, of New Cuyama, Calif. "This sculpture is my attempt to envision man's early fantasy evolved into the reality of today's sophisticated aircraft that many of us take for granted."
Rather than the openness of sky, Steve Elliot's "Sanctum," which sits outside the Lawrence Public Library, conjures small, safe spaces. Inspired by military technology, the artist designed the sculpture using three-dimensional graphics techniques, then welded together more than 1,000 pieces of steel to create a textured structure with an intimate interior.
"My hope with this sculpture," Elliot says, "is to convey a sense of strength and protection."
Like all of the artists in the show, Larry Young hopes his "Introspection," a 12-foot-high bronze positioned in front of the Judicial and Law Enforcement Center, 111 E. 11th St., will make people stop and think. What at first appears to be a purely abstract shape creates a human form in its negative space.
"It seems quite fitting that 'Introspection' is placed in front of a justice center where people and public officials are confronted with issues that give pause for introspection," says Young, of Columbia, Mo. "I hope that this sculpture stimulates this reflection."
Gentele, the exhibition juror, says not everyone will like every piece in the show.
"But being exposed to a variety of different experiences and visions," he says, "is important."