QuickView
Good: Very few people will ever actually play it
Bad: Absolutely everything
Worst: Game ever?
I can't, for the life of me, fathom why anybody would think making a game like Winx Club: Join The Club would be a good idea. I don't even think the developers themselves knew why they were making this game. I can't imagine the PSP's age 5-7 females with learning disabilities demographic is very large, and I would expect that to be the only group this sort of thing would appeal to. It's no wonder the final product looks like almost no effort went into it. Nobody out there is going to bother playing it.
First of all, there's the intrinsic problem with the source material, which I can't imagine being very healthy for young, impressionable girls. The world of Winx revolves around a group of fairies attending school for, well, fairies. Serving as positive role models for the American female youth, these fairies spend their free time thinking about nothing but clothes, boys, and the air floating around in their heads. I really can't think of a franchise with characters this shallow. Imagine Harry Potter if the boys spent their free time drinking beer, downloading porn, and jerking off, and you'd basically have the male equivalent of this inane franchise. Now imagine marketing that to five-year-olds and you might have a good idea of what's wrong with this series.
But never mind the inherent stupidity of the series, let's discuss the mindblowing suck-factor of the game. Join The Club is essentially a bunch of poorly-designed minigames strung together by a menial story about witches and dark lords attacking the school. Occasional cutscenes taken from the animated series are thrown in to give some narrative, but these are so lazily implemented that occasional credits from the show pop up during the videos.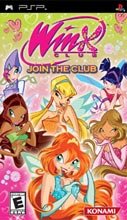 The minigames themselves are high in number and low in quality. This is definitely a case where the developers would have been better off cutting the number of minigames in half and instead concentrating on making them good. Perhaps the worst of the lot are the various minigames that have the player guiding a character down a narrow path, dodging obstacles. A large number of minigames fall into this category, and all are equally bad. For one thing, you cannot control your character while in air after jumping, so should an obstacle come from offscreen in front of you after you've already pressed the jump button, you're basically just stuck hitting it.
None of the other minigames are much better. There are a few memorization-based minigames, but these are so painfully simple, anybody with half a brain should be able to solve them. Another is an SSX-style downhill race, where you can do tricks to earn, well, nothing. These are simply some of the most mundane, simple, poorly designed minigames I have ever seen. Even the DS version of Winx Club was more engaging.
The load times also merit mention. I spent more time looking at the loading screens than actually playing the game, no exaggeration. Expect loads that sometimes stretch upwards of a minute every time you enter a new location, view a cutscene, or start a minigame. It's not like you'll be super thrilled when you actually get to the game, but it's still grating seeing the word "Loading:" pop up more than the game itself.
In terms of replay, the game tries to offer some incentive in the form of unlockable outfits, furniture, and other items. However, the gameplay itself is so bad, it's unlikely anyone will want to come back for a second playthrough.
Technically, the game is an outright waste of your senses. The graphics are so simplistic that it's actually a small marvel the framerate is as bad as it is. At times during the minigames, the game gets so choppy that your character will literally disappear for a moment and then reappear on the other side of the screen.
Sound is also very bad. The fairies sound about as idiotic as their characters are, and then there's the music. Simply put, I hope whoever does the music for Winx Club never gets work again. This is hands down the worst pre-teen pre-fab pop crap I have ever heard, and if I ever have a daughter that listens to this stuff, she will find herself up for adoption very quickly.
I don't really have a single nice thing to say about Winx Club. This is simply one of the laziest games I have ever played. I have never seen a game where it has been so transparent that even the developers probably loathed the product they were making. If you have a daughter that is a fan of the series, she probably doesn't need videogames to dumb her down any further. Avoid this game at all costs.
Graphics: 2.5
Sound: 2.0
First Play: 2.0
Replay Value: 2.5
Gameplay: 2.0
Overall: 2.2
More like this story on Lawrence.com