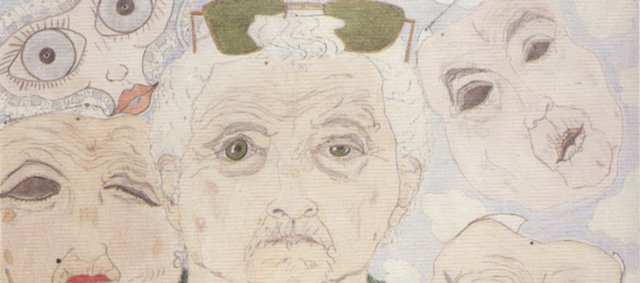 Photo Gallery
Artwork of Elizabeth Layton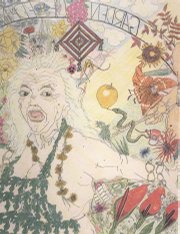 Elizabeth "Grandma" Layton realized her dark history of depression, and the fact she started drawing at age 67, would draw people to her art.
But she never wanted her story to be the focus of attention.
"With the art therapy, I felt like I had to tell about the depression and the shock therapy treatments, which I didn't mind at all telling," the artist said in 1991. "But I like it when people just look at the pictures and just leave me clear out of it."
Both Layton's story and her drawings will have a new audience starting Friday, when "Elizabeth Layton Revisited" opens at the Lawrence Arts Center, 940 N.H. The show includes 45 drawings, most of which are in the center's permanent collection.
That show - in addition to a set of Layton's prints that are touring the state - are helping to keep the former Wellsville resident's legacy alive nearly 15 years after her death.
Healing through art
Layton started doing contour drawings as a way to deal with her depression, which she had struggled with for years. In addition to electroshock therapy, she had been institutionalized several times.
"She had been clinically depressed for many years, and she sort of channeled that energy," says Rick Mitchell, the arts center's gallery director. "In a sense, she cured herself of her depression through drawing."
Mitchell describes Layton's drawings as being both dark and cartoonlike, often at the same time. Most of her works were self-portraits, or portraits of her husband, Glenn.
"I think she's a good artist in her own right," Mitchell says. "She really captures her spirit and her own personality. She really can capture qualities in drawing, and not everybody can do that."
One shows her family eating a Thanksgiving dinner of Kentucky Fried Chicken and Oreo cookies. Another shows her wearing a variety of political buttons. Yet another shows her husband standing on the bathroom scales, struggling to gain weight after a hospital stay.
By the time Layton was selected for a 1984 show by the Mid-America Arts Alliance, she realized she had a "mission" in her art: to help people with depression, foster their creativity and to convince older people they could have, as she put it, a "wonderful life."
"What I do is very controversial as far as art is concerned," she said. "But for the most part, what I draw is for other people who are like me and may be troubled by their feelings. You'd never believe some of the wonderful letters I get from people who have been to the show. And to me, that's the whole thing. It's not whether this is art or not. I don't care."
Artist discovered
To Don Lambert, Layton's art is about her story, and her story is about art.
"I don't think you can separate them," he says. "There is the story, and there are her drawings. They are so intertwined."
Lambert first met Layton in 1977, when he was working as a reporter for the Ottawa Herald. He discovered her artwork at an Ottawa University class Layton was taking, and he eventually wrote a story about her drawings.
"I told her I thought they were so beautiful, and she argued with me," Lambert recalls. "She said, 'No they're not. They're ugly.'"
Lambert soon left Ottawa to direct the Topeka Arts Council, giving him a platform to promote Layton's works. He served as a manager for her and continues to promote her drawings.
He helped her secure her largest exhibit, a 1990 show at the Smithsonian seen by 60,000 people.
But Layton never let the attention give her an ego.
"They begged her to come" to the Smithsonian opening, Lambert says. "But she said, 'Why would I want to go all the way to Washington, D.C., to see these pictures? I've already seen them.'"
Legacy in jeopardy?
As time goes on, Lambert does worry some that Layton's reputation might not continue.
"That's a possibility, always," he says. "But if it happens, it happens, because her work has served a major purpose, and that major purpose was it made her well. And I think it helped many other people on their way to wellness."
Her artwork has done even more of that recently. The Kansas Health Foundation gave the Lawrence Arts Center $25,000 to create high-quality prints of some of Layton's works for exhibit in locations throughout the state. They're mainly in mental health facilities and libraries.
"These are strong images about mental health, aging and so forth," Mitchell says. "It's good for people to see these, whatever they're experiencing."
Lambert secured a 2001 exhibit at the Halle Saint Pierre museum in Paris, and remains hopeful that Layton's work will continue to be shown.
Her story, he says, will remain captivating into the future.
"I'm always on the lookout for the big show in the sky - like at the Whitney Museum (in New York)," he says. "It has not happened yet, and it's not for lack of trying. But I'm not done yet."