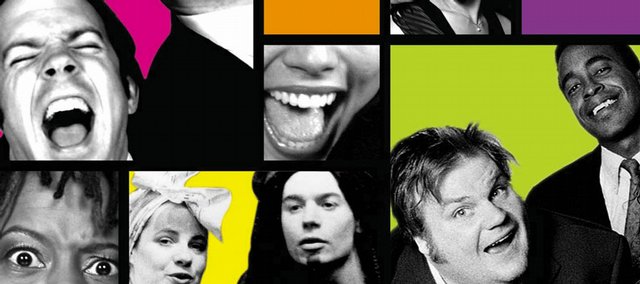 The phrase "improvisational sketch comedy" often proves confusing. So Tim Baltz has to explain to folks what he does onstage.
"Sometimes people are like, 'Great. Let's hear your standup,'" Baltz says.
"Other times people will say, 'So you guys improv for two hours? That's got to be tough.' They don't really know what sketch comedy is. They don't know how we improvise as a means of creating sketch comedy."
People may not quite understand the specific terms when dissecting live comedy, but even the most ignorant of them typically recognize the name Second City.
Since 1959, the Chicago-based troupe has developed and showcased the who's who of American comedic talent. Cutting-edge alumni include Steve Carell, John Belushi, Tina Fey, Steven Colbert, Chris Farley, Bill Murray, Martin Short, Julia Louis-Dreyfus - the list goes on and on.
Now Second City is launching a tour dubbed "A Dysfunctional Holiday Revue" that will deposit its six-person cast in Lawrence.
Count Baltz among the latest performers.
"Religion, politics and the war are pretty hot-topic issues we cover. When those come up, an audience will either cringe right away or cheer right away," he says.
Past Event
Wednesday, November 7, 2007, 7:30 p.m. to 9:30 p.m.
Lied Center, 1600 Stewart Drive, KU campus, Lawrence
All ages / $12 - $24
Baltz explains the show is structured in three acts: First there's primarily sketch comedy such as seen on "Saturday Night Live" or "MADtv." Then improv is mixed into the second segment, a la "Whose Line Is It Anyway?" The third act is completely improvised based off of audience suggestions.
"Pop culture plays such a huge role in what people laugh at. They make stars out of people, then people get sick of them. So if you mention them, people laugh," Baltz says.
"Sometimes we'll get audiences who are in their 30s and 40s, and if you throw out a Lisa Loeb reference, they'll go crazy. Lately Kelly Clarkson has been getting a lot of laughs."
Surprisingly, it's been two decades since Second City has performed in Lawrence. (The last show was Oct. 1, 1987, at the KU Ballroom.)
"We see comedy on television a lot. Comedy is everywhere - even improv comedy or sketch comedy. But to actually be there and watch it happen in front of you, it's such a thrill," says Karen Lane Christilles, associate director of the Lied Center.
"To watch people think on their feet like that sort of renews my faith in the human spirit."
Diving in
Baltz first became smitten with live comedy when he was 15.
A friend drove the Joliet, Ill., native to an Improv Olympic show in Chicago.
"I loved it, and I secretly wanted to do it, but I didn't want to suck at it," he said. "I ended up going to Loyola (University Chicago), and I waited two years to even take a class."
Baltz finished the introductory program sponsored by Second City when he graduated college and immediately went into Improv Olympic (since renamed IO Theater).
He was hired in April 2006 by Second City and began touring within a month.
"When I was taking classes, I played a lot of characters, and I was afraid to play myself onstage because that was really vulnerable. If you don't get laughs or the scene that your improvising goes poorly, you can't help but take it to heart. Whereas if you're playing a character and it goes poorly, you're like, 'Well, that character didn't work,'" he recalls.
Although still based in Chicago, Second City has branched out to Detroit, Los Angeles, New York, Las Vegas and Toronto.
Currently, there are three national touring companies (all emanating from the Windy City). None of these feature the talent that comprises the six-person cast of the Chicago main stage. That represents the coveted goal for those in the touring lineups.
"In the old days, people might tour for years before they made it to the next level," Baltz says. "And after that, 'Saturday Night Live' used to be the only avenue for this kind of stuff. Now with other shows like 'MADtv' and things on the Internet, there are so many more opportunities."
Baltz admits he has "a lot more to learn" when it comes to the dynamics of live humor. But he's also becoming accustomed to the rigors and routines of the profession.
He says, "I used to get really nervous if I didn't know anybody in the crowd. It was like a security blanket that I knew they'd get my sense of humor. Now I get more nervous if we're debuting new material."
Know the rules
When learning to comedically improvise, Baltz says there are certain concepts that are crucial to grasp.
For starters, don't deny.
"If someone comes out and says, 'Hey Terry, it's a beautiful day outside.' And you say, 'My name is Frank, and it's raining,' you can't really go from there other than establishing one of the people in the scene is crazy," he says.
He explains it's also important to understand there needs to be a winner and loser in each scene. He reveals this was first taught to him by having two students pretend to mime a tug-of-war. Unless one concedes, the scene goes on forever with little payoff.
And no firearms, please.
"There's the old improv joke that if one person pulls a gun, everybody better pull a gun," he says. "Nobody wants to die in an improv scene, especially when they're just starting out."
Second City mainly focuses on political humor and social satire. The cast often experiments in rehearsal with long-form improvisation in order to create sketches or scenes that it will use later during live shows.
"The good thing about improv is that it's an ensemble activity," says Baltz, whose performance on Wednesday will represent his first time in Lawrence.
"You have to help each other to succeed. By rooting for other people, other people root for you. That keeps a lot of pressure off."