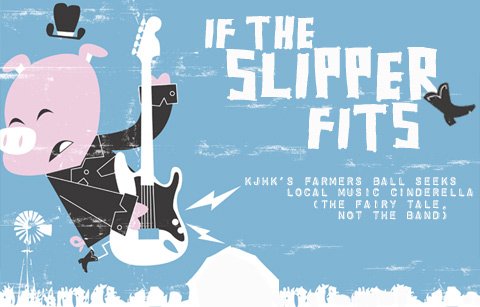 If one were looking for an abbreviated introduction to Lawrence's best new bands, KJHK's Farmer's Ball would be the ideal place to start. The competitive aspect of the annual battle-of-the-bands usually takes a backseat to the camaraderie, which is usually in full effect despite a wide breadth of musical styles. This year's crop features eight wet-behind-the-ears acts that will go toe-to-toe in preliminary bouts Thursday and Friday and seek a knockout blow at Saturday's finals at The Bottleneck. We harvested the freshest tracks from all eight ballers into a podcast preview of the 2007 Farmer's Ball.
No-fi version of the podcast
Les Somniferes are Lawrence's newest (only?) French-friendly act, weaving hints of baroque pop, cabaret and folk into their gentle compositions. The majority of the group's songs are half in French and half in English, as the three founding members -- Anissa Svenson, Rebecca Watts and Kathrine Bogart -- met while studying abroad in France. Upon their return to the mother country, the trio enlisted the help of Martinez Hillard and Jeff Milberger (also of The Jen Say Kwahs) and guitarist Derek Branham.
Online: www.myspace.com/lessomniferes
Mammoth Life just recently began performing after more than two years of writing and recording at various home locales. The group's debut album "Kaleidoscope Art Pop" offers up shiny happy music with multiple male and female vocalists and an extended collective consciousness incorporating film, photography, clothing design and even a "lyric collaborator." Avowed inspirations include The Beach Boys, Joe Meek, Mark Mothersbaugh, Simon and Garfunkel, Antonio Vivaldi and Electric Light Orchestra.
Online: myspace.com/officialmammothlife
Local emcee Stik Figa (John Westbrook, Jr.) raps about what he knows, from humorous tales of a Topeka night club ("Lookin Good") to issues on identity and interracial relationships ("Let It Be"). Recently crewed up with InnateSounds and producer Miles Bonny, Figa enlisted Lawrence homeboy Johnny Quest to mix his debut album "The Skinny." He cites GZA's "Liquid Swords" as his desert-island disc, speaking volumes about his predilection towards smart and introspective hip-hop.
Online:myspace.com/stikfiga
The Jen Say Kwahs unites former members of local bands thesistermaria, The Ice Cream Sandwiches and Percival. The group's alternately poppy and brooding guitar rock incorporates old-school drum machines and pedal steel guitar, spawning fine-toothed indie rock compositions with a sentimental flair. The Kwahs will perform new tracks from an upcoming EP to be released this month.
Online: myspace.com/thejensaykwahs
Blue(ish) preserves the tradition of Lawrence bands with weird names involving the color blue (a former Farmer's Ball band was named Blue, but you couldn't say it you had to point to something blue). The (ish) is the homespun project of Christopher M. Clark and friends, a venture into IDM headphone pop with subtle, absorbing beats and bits of folky acoustic guitar. Boards of Canada and Müm could both serve as reference points, but it's fair to say this (ish) is uniquely the sh*t.
Online: myspace.com/l5l4
Soundquist is Carl Sundquist, who makes instrumental music with a Tascam 8-track, keyboards, drum pads, effects pedals, washboards, bottles and whatever else he can tweak out on. Found noises collide with Aphex Twin/Autechre-style beats, creating darkly engrossing sound collages reminiscent of DJ Spooky.
Online: myspace.com/soundquist
Rusty Scott is a Midwest man with an acoustic guitar in his hand and a croon that could cross a state line or two. Keen lyrics like "Sometimes the whip is in my hand / Other times I'm getting beat by it" embellish rustic Americana folk melodies in the style of Ryan Adams or Andrew Bird, but Scott's seasoned songwriting likely draws from a much deeper pool of influences.
Online: myspace.com/rustyscottmusic
Former members of Raising Grey and Tabla Rasa formed Kansas City's Five Defy in 2005. Citing tried-and-true influences like Pearl Jam, The Pixies and Rusted Root, the five-piece group occasionally injects mandolin and violin into dance-oriented rock songs modeled on a strong rhythmic backbone.
Online: myspace.com/fivedefy