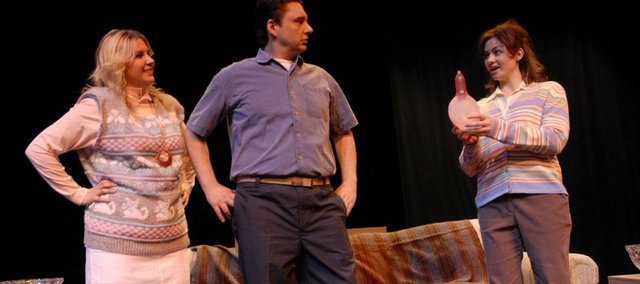 Thursday, November 8, 2007
Audio clip
KU senior Adam Lott on his play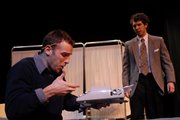 KU student plays
What: A double-bill of one-acts, including "Please Take...Seriously," by Adam Lott, and "Lights Fade, Curtain," by Whitney Rowland
When: 7:30 p.m. Friday-Saturday and 2 p.m. Sunday
Where: Lawrence Arts Center, 940 N.H.
Tickets: Adults, $10; seniors, $8; students, $6
Ticket info: 843-2787
In Lawrence, gaudy couches - worn with age and perched on front porches - are synonymous with college students.
"Around April or May, they always end up on the curb and get thrown away. You just kind of wonder, 'How long has that couch been around? Why did they throw it away?' And you put it in the back of your truck, and now it's in your living room," says Adam Lott, a Kansas University senior.
"I have a rescued couch. If you flip over the cushions, there is a weird red wax that I can't get out."
Interest in the stories these couches could tell - you know, if they could talk - led Lott to write the one-act play "Please Take...Seriously." It's being paired with "Lights Fade, Curtain," by KU junior Whitney Rowland, on a double bill of student one-acts being staged this weekend by English Alternative Theatre.
"Please Take...Seriously" chronicles changing sexual mores in America through a series of five vignettes, all seen from the viewpoint of a couch that remains in a student housing complex from the 1950s through the present. The building morphs, for example, from a fraternity house in 1958 to a commune in 1978 to cheap student housing in 1998. The characters, too, are different from one decade to the next - physically speaking, anyway.
"I realized that things, as much as they've changed, they're not that different between people. The social context changes more than the actual relationship does," says Lott, a 25-year-old Garden City native.
"For example, we have characters in '58 who both or one of them is gay and they can't come out because they're in a fraternity and there's sort of that macho bravado thing."
Lott, a creative writing major, penned the one-act last year as a final project in Paul Stephen Lim's playwriting class. He appropriated the core idea from A.R. Gurney's play "The Dining Room" (1981), in which familial stories unfold in different eras around the same dining set.
Beyond the couch, one thing binds Lott's characters together: a shared sense of frustration.
"It is a sex comedy in which no one gets to have sex," he says. "I had to write from my own experience."
Lott also writes with an exceptional sense of humor, Lim says, which makes "Please Take...Seriously" an appropriate complement to Rowland's more dramatic "Lights Fade, Curtain."
In that show, a playwright visits his comatose mother on her deathbed, attempting to piece together the story of her life with his father. In flashbacks that cover a 50-year time span, Rowland reveals the details of the elder couple's romance and eventual divorce.
"I thought the two pieces would work well as companion pieces," Lim says. "Thematically, they seem to be dealing with the same thing."
Rowland's play won the reading competition at last year's Kennedy Center American College Theatre Festival in Ames, Iowa. As part of the prize for that honor, it has been invited back to this year's festival as a full production. Judges will be on hand this weekend to determine whether Lott's play will get the same treatment.
"Whitney's play is really amazing," Lott says. "It's so good that I'm really humbled to be put up next to it."
Theater announces finalists in writing competition
To promote its double-bill of one-act plays by Kansas University students, English Alternative Theatre sponsored a "How My Parents Met" writing competition.
Entries were pared to 24 finalists, which have been divided into three groups of eight who will read their entries at this weekend's performances of "Please Take...Seriously," by Adam Lott, and "Lights Fade, Curtain," by Whitney Rowland.
A cash prize of $100 will be awarded to a winner after each performance. Shows are set for 7:30 p.m. Friday and Saturday, and 2 p.m. Sunday at the Lawrence Arts Center, 940 N.H. The reading schedule follows:
Friday: Annie Dropek, Robert Elliott, Robert Knapp, Dan McCarthy, Katie Oberthaler, Maria Polonchek, Adam Suelter and Kimberly Westphall.
Saturday: Robert J. Baumann, Jena Borel, Ben Cartwright, Rachel Haskins, Elizabeth Rain King, Sara Langford, Karen Ledom and Michael Whitten.
Sunday: Andy Anderegg, Briana Arensberg, Samantha Bell, Jacob Henshaw, Tahir Hussain Khan, Betty A. Laird, Young Han Lester and Rebecca Ralstin.