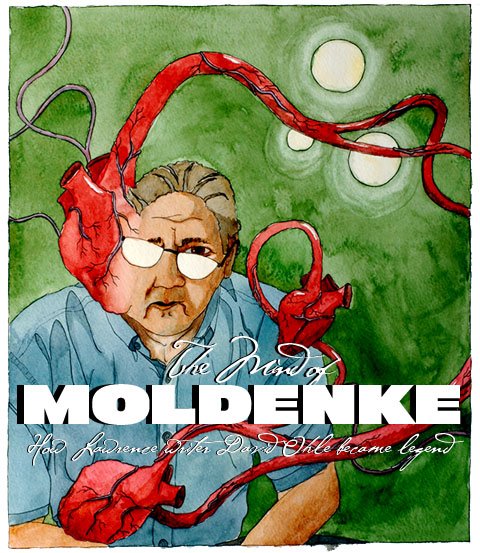 Monday, November 12, 2007


1. Early Ohle
The legend of David Ohle was born in 1972 with the paragraph,
"Moldenke lived the hainted life. As a child he was kept in a crumbled brick of a house where thickwindows moaned in their frames throughsummerfall and gathered ice by winter."
This was on page 98 of the January issue of Esquire, opposite a surrealist painting of a dismembered hand holding a telephone receiver on a stool swarming with insects. The story was called "Some Moldenke," a strange, fragmentary piece starring a listless, almost translucent observer in a bizarro world.
Esquire was the first place Ohle's work had ever been published. The other piece of fiction Esquire chose to print that issue was by Gabriel Garcia Márquez. He would win the Nobel Prize for literature 10 years later. Ohle was a master's student in English at the University of Kansas. He was in his early 30s and had shoulder-length hair.
Paragraph two reads,
"In the prime of his boyhood an ether tree patiently died in the view from hisbedroom window. In the spring a green woodbird flew down and pecked spiralsaround its dry trunk. Moldenke would fold himself in his chair and watchseveral suns rise behind the ether branches, studying the woodbird'shabits."
The story got published after Stanley Elkin, a prominent American novelist and short story writer, was brought to KU to visit with the creative writing students. Ohle showed Elkin his thing about Moldenke.
"This is pretty interesting," Elkin said. He told Ohle to send the story to his friend Gordon Lish, the fiction editor at Esquire. After it was published, a high-profile literary agent named Candida Donadio called Ohle. She represented "Catch-22" author Joseph Heller, among others.
She marketed the Moldenke piece to publishing mogul Alfred A. Knopf. Not long afterward, Knopf published Ohle's 117-page novel, "Motorman." Ohle graduated, with the novel as his master's thesis, and landed a job teaching creative writing at the University of Texas at Austin. They did not interview him. They just read "Motorman."
Back to Esquire, page 98, paragraph three:
"Days would rush on a klick a minute. All things were tight then.Moldenke was free and green, bright suns behind him, spirals ahead."
2. Later Ohle
"Motorman" went out of print a few years after it was published. Ohle's next novel was a sequel called "The Age of Sinatra." One-hundred-sixty-eight pages. It was published in 2004.
3. Upper Ohle
I met up with David Ohle last week for an interview at the Bourgeois Pig. When I got there he was sitting in the corner in front of a painting of the moon with a drink called a horsefeather in front of him.
4. Bio
From the KU Spencer Research Library's "Guide to the David Ohle Collection," on what happened after "Motorman" was published:
"Over the next few years, his short fiction appeared in the Transatlantic Review, Paris Review, Harper's and elsewhere. He also edited the non-fiction oral history, "Cows are Freaky when they Look at You: An Oral History of the Kaw Valley Hemp Pickers (Watermark Press, 1991).
"Ohle taught at the University of Texas in Austin from 1975 - 1984. He then returned to Lawrence and continued to write and publish. In 2002 he began teaching fiction writing and screenwriting as a part-time lecturer at KU."
5. Deleted

6. Deleted

7. Things not in bio
He was denied tenure at Texas because he couldn't get a second novel published. He sold his house in Austin and made about six times what he paid for it. He moved to Lawrence and worked various jobs. He wrote for a small advertising firm for a number of years. When it went tits up, he got a job teaching English at KU.
He became good friends with William S. Burroughs, who lived in Lawrence from 1981 until he died in 1997. He ate dinner with Burroughs and friends on Thursday nights, often cooking for them. He also typed up and did some initial editing of Burroughs' manuscripts, including "Queer" and parts of "The Cat Inside" and "The Western Lands."
8. The Flum
In 1993 the Lawrence Journal-World published an article about Ohle, a New Orleans native, called "Getting his gumbo fix":
"'To make it taste right, you have to have shrimp heads to make the stock,' he said, explaining that the fat and the richest flavor in a shrimp is in the head. 'The only place to get shrimp with heads on around here is at Asian markets.'"There's always a fall back, however. 'If you can't get shrimp with heads onthem you can use the shells to make a passable stock,' Ohle said. Thelast-ditch solution is to use bottled clam juice."
The article, diverting briefly from Ohle's gumbo secrets, mentions: "Of late, he's written 'The Flum,' a sequel to his novel 'Motorman,' which was published in 1972 by Alfred Knopf. 'The Flum' is excerpted in the current issue of the literary magazine Conjunctions."
9. Deleted

10. The Flum cont.
The truth was, "The Flum" had been finished in some form for years, and would wait in the wings for more than a decade further.
Pieces of it were published all over the place, from the Paris Review to the Missouri Review to the Transatlantic Review to the New Mexico Humanities Review.
But he could not get his novel published. He had an agent sending it everywhere. Each time it was rejected, he changed it and sent it off somewhere else, where it would get rejected again. At various times it was called "The Neuts of Wall Street," "On Oaken Homer," "The Necronaut," "Now and Then," and "The Age of Oswald."
Publishers said it would not sell. It was too weird. Nineteen-seventy-two was the time and place for a guy like Ohle. People dug weird. Then the world returned to normal. The hippies lost. Ohle lost. Vince Lombardi and Raymond Carver won.
Ohle tried to change his writing style. He could not. He wrote screenplays and stage plays. He read them before small groups in New York. He hoped something would sell. Nothing did.
"Any number of times, I sat down and said, 'All right, I'm gonna write a novel now that's gonna be normal and it's gonna appeal to a wide market and I'm gonna make some money,'" he says. "I'd sit down and two or three paragraphs later, (clap). Can't do this. It's not my thing.
"I write that way because that's the only way I can do it. I have no choice."
11. City Moon
Another thing was that "The Flum" et al. was weirder than "Motorman."
Although "Motorman" is a very strange little novel about a guy (Moldenke) with four hearts (sheep hearts), it is a simple narrative and easy to read. "The Flum" demanded more patience. It covered a broader scope. It jumped around. It was not a simple narrative.
The catalyst for Ohle's change in style was a newspaper he published called the City Moon. The City Moon was kind of like the Onion. Except instead of running satirical headlines like, "Bush Proud U.S. Economic Woes Can Still Depress World Markets" (an Onion headline from last week), they were more like,
"DREAMER DEAD AT TENSLEEP,""submarine guts peculiar boy," or "TITANIC RAISED: 3 DEAD 6 HURT 11 WILL HANG."
The paper was set in a bizarro world with reoccurring characters like the "Ape of Golf" and someone named Oneba, who at various times was the president. From 1973 to 1985 Ohle and his friend Roger Martin published 18 issues, distributing them exclusively in Lawrence (although one issue proclaimed "Life in Ancient Wichita" at the top.)
They had no ads, except fake ones ("Gons Hotel" [Picture of Transylvania-style castle] "Very Choice"). They did sometimes charge a nickel for the papers, sold at the KU Bookstore, and ask for donations. Martin taught English at KU, so they had access to the KU presses. They once got a grant for about $180 from the National Endowment for the Humanities.
In 1976 they received a little notoriety when Chancellor Archie Dykes ordered the paper removed from the student union. The predominant headline for the issue in question was,
"MAN SUCKS WETNAPS; BELLED BUZZARD SEEN; NECRONAUTS CRUISE."
That same year, The American Spectator fingered the City Moon as the worst example of "sewer journalism" in the United States, saying that only in the sewers of liberal New York could such smut conceivably be created.
Today you can find every issue at the Spencer Research Library, a bizarre place to read such things. Don't rest your elbow on the paper. They will yell at you. (I went to Martin's house instead.)
12. Stop just short
"The motto that I carried away from the City Moon was to always stop just short," Ohle says. "That was our motto. To never, ever completely tell enough detail for anyone to figure it out. And I think that applies in almost everything that I write. I don't want to over-explain things. Leave it kind of vague and uncertain.
"'Motorman' was different because that happened before City Moon. That was its own thing. : Everything after that came after the City Moon, I developed all these notions of taking real stories and breaking them down and cutting them up, processing them and changing them. That's how that happened."
13. When we last left Ohle:
He was writing advertising copy, etc., getting things published here and there, but no novel. In 1991 he co-edited "Cows are Freaky When They Look at You," an oral history of hippies in and around Lawrence. "Motorman" was dead, "The Flum" unpublishable.
14. KGB
At some point in the early '00s, Ohle went to a literary hangout in New York called KGB Bar to read some stories. Somebody had read "Motorman," realized Ohle was still alive, and invited him. Many more people showed up at the reading than he had expected. They had photocopies of "Motorman."
"We've been reading this," they said. "We've been passing these copies around for years. We love it. Would you sign it?"
Listen to Ben Marcus, born in 1967, author of novels, head of the master's of creative writing program at Columbia University, big shot (he's got a wikipedia entry [unlike Ohle], with subheads, the whole shebang.)
He heard of Ohle from Gordon Lish. Lish is the guy who published Ohle in Esquire in 1972. Lish "was always talking about the classic forgotten books that he published," Marcus says. "David Ohle was sort of this legendary figure."
Legendary in the sense that Marcus heard all about how fantastic "Motorman" was but couldn't find a copy. He and his buddies got obsessed and searched all over New York. Finally he found one, read it, loved it, shared it with all his friends, anybody who would take it.
This occurrence had been happening, in small circles where such things happen, for years. My father, at some point in the 1970s, photocopied the thesis page-by-page from Watson Library. Photocopies like this became scattered across the country. Ohle was oblivious.
"I honestly had no idea, not one idea, that anybody was reading it at all," he says. He mentions his thesis. "I don't know if it's still there or not. Somebody might have stolen it."
Someone has, in fact, stolen it. KU library records show that it went missing in 1993. Another copy of the book went missing in 2002. Another copy is currently checked out. (The Lawrence Public Library doesn't carry it at all these days. Otherwise it would probably be missing there as well.)
15. The end
We're running out of space, so here is what happened.
The last few years have been somewhat miraculous. Not in the sense of Ohle becoming famous or making a lot of money, but in the sense that he's gone from forgotten author to, at least among some fans, "forgotten genius," and "Motorman" has gone from a forgotten book to "cult classic."
"Motorman" was reprinted by a small publisher called 3rd bed in 2004. Ben Marcus wrote the introduction. "The Flum" was published that same year as "The Age of Sinatra" by another small publisher, Soft Skull Press. Ohle also edited a nonfiction book last year on Burroughs' son, called "Cursed From Birth: The Short, Unhappy Life of William S. Burroughs Jr."
16. Pisstown
In a storyline somewhat resembling the "Flum" debacle, Ohle was supposed to have another Moldenke book, "The Pisstown Chaos," published this year by Soft Skull press. The cover was designed and everything. But the publisher didn't get enough orders from booksellers to cover the cost of printing.
It's postponed 'til next summer, for now. Maybe in 2036 demand will peak.
In other news, Ohle wrote a short novel with his long, lost, strange childhood friend who's a professor in South Africa, called "The Duck Ladies." Ohle sent it to a publisher and is waiting to hear back. (Read two excerpts below).
17. Tits up
"Motorman" is about to go back out of print. "The little publisher that did it is going tits up," Ohle says. He's optimistic about finding a new publisher.
18. How "Motorman" ends
As always,I remain,Moldenke


~ ~ ~

The Duck Ladies
"The Duck Ladies" is a novel Lawrence writer David Ohle and his friend Randall Hepburn wrote together. Ohle and Hepburn grew up together in New Orleans.
Beginning in first grade, they'd spend their days together playing in the graveyard and the racetrack when it was empty. Hepburn went to a seminary for high school, Ohle says, but was kicked out for heresy. They went to LSU together and then Ohle moved to San Francisco and applied to various graduate schools for writing but didn't get accepted.
Meanwhile, Hepburn was at KU getting his PhD in entomology, the study of insects. Ohle asked him if KU had a writing program, and it did, so he came to Lawrence.
In 1969 Hepburn moved to South Africa and got a job teaching at the University of the Witwatersrand in Johannesburg.
Ohle did not hear from him for 36 years. Then, several months ago, he got an email from him, asking if he wanted to collaborate on some kind of writing project. Ohle said sure, and Hepburn started sending stuff based on his world travels as a bee expert.
"They would be one or two pages of this bizarre, really interesting stuff," Ohle says. "He was always a good writer, but this was way over the top. And I thought, 'That's great.' He would send me two pages, I would write two pages. He'd send me one page, I'd write one page."
One day, after four or five months of this, the writing from Hepburn stopped as abruptly as it had begun.
"He just said he'd run out of words," Ohle says. "He still sends emails but no more writing. : We had about 100 pages done at that point, so I thought, 'Well, that's it. Each of us have done about half of this thing, and it's just 100 pages long, that's all. It's just a short novel.' And that's where it stands."
Ohle has sent it to a publisher and is awaiting word. Here is an email Hepburn sent us and two excerpts from "The Duck Ladies." >>
lawrence.com: I interviewed David yesterday about "The Duck Ladies" and also about his older stuff. I'd like to ask you a couple questions. Please get back to me as soon as you get a chance, as I'm turning in the story by the end of the day tomorrow.
R.H.: For me you are living in yesterday but be that as it may.
David told me you two grew up together in New Orleans and were good friends. Tell me about that.
We met in the little boys' yard in 1946 and so have been friends for a while.
His uncle by marriage blew his brains out. Didn't see it at all. Sexy sister. He was, as a boy, an excellent flint and steel man. Cannot remember his marble skills but at the end of each year we took delight in burning our catechism books and all the milk bottles full of venial and mortal sins. Beat confession.He later advanced to visiting funeral parlours for unknown dead and subsequently did diabrotica for a while and then shit samples for the state health dept.
Can you describe for me your job and when/why you decided to leave the U.S.?
I left the US in 1969 but would have gone sooner had Vietnam tried to get me. I think that the Supreme Court of the USA Miranda decision in 1964 was the final straw. The first straw was Brown versus Board of Education in 1954. For details, see Peter Archibald Carmichael from Alabama, I have forgotten the town but it was certainly not Oop where I once went. Maybe it was Aniston. Ohle can also tell you about PAC. The country began serious deterioration during the iron lung era and has continued down the spiral with increasing speed. Even the duck lady gave up and went down Esplanade all the way to Alvin Jones's house to look in that big mirror.
My job simple, academic entomologist always working for universities and still at it but for last 30 years or so doing only honeybees. At present in Thailand studying Apis florea. In 21 minutes am leaving Chom Bung to catch flight to Kunming so also pressed for time.
How did you get back in touch with David, and why? He said you sent him an email, pretty much out of the blue?
Sort of. It became necessary to inform him about climatic conditions throughout Borneo, but particularly around YaYa's place in Long Semado where the road is covered in betel juice spit. A nice red, lighter than blood actually, like royal blue ink but red if you remember royal blue ink and eskimo pies.
What inspired you to write this thing? Tell me about the project.
Mental exhaustion from the scientific work needs a palliative. It was an inevitable excretion to obliterate the past and to continue on the path through the forest very quietly and not disturb the dragons.
If there's anything else you'd like to add, please do so.
What has the Canadian government decided to do about the Mormons?
I must now go to Bangkok for my flight. Will be unavailable for 24 hours.
cheers
rh


~ ~ ~

Two excerpts from "The Duck Ladies"
By David Ohle and Randall Hepburn
Bangkok Severings
Last winter, the Professor traveled across the Gulf of Siam to Bangkok. He took the boat taxi up the Chao Praya river to spend time with Egg Surasak, the foremost penis-restorative plastic surgeon in Thailand.
The Professor waited for the famed surgeon in the Cafe Lyon, sipping tea and reading an article in the Bangkok Post about a recent wave of severings: "While not unique to the kingdom, it has been honed here to its most devastating effect through a heady mixture of routine infidelity, assertive womanhood and a national cuisine that lends itself to a kitchen full of sharp knives," the writer had written.
When Surasak popped into the Cafe, he said, "Good morning Professor," in his gentle Asian way.
The Professor replied: "Egg on you, Egg. What will you have?"
"Oh it's a warm day, something light. Maybe four bowls of rice."
The Professor could sense disappointment in Egg. His social life was somewhat limited because those in his pink-gin drinking circles tired of his endless prattle about pearly penile papules, his favourite topic, Fordyce spots, phimosis and pudendal nerve entrapment, not to mention Peyronie's disease. They delighted him as horse races delighted others. He could not get enough.
"I've been sewing up plenty of cases lately," Egg said. And my colleague, Professor Muangsombot, says that he alone has sewn up 33 cases and oodles more have been reported around the country. "Thai wives show marvelous ingenuity in trying to prevent the offending body part from being reattached. They boil them, feed them to ducks, flush them down the toilet, bury them and have even tied them to balloons and let them float away." Egg's advice was: "If you have a mistress, the wives will get mad and cut it any time, so always carry a Thermos to put it in and keep my name and number close to hand."
People Meat
The Professor awoke in a sweat. He saw Yaya sitting on the stoop of the longhouse gnawing a human tibia. "My dear Professor, what you see in my face is the mental victory, the thumping of human defeat that comes from eating human flesh. Friends brought me some from the Sampit massacre. Plenty of corpses. Well preserved in salt. Very fresh taste."
"Well Yaya, that may be. But, whether you are eating flesh for spiritual reasons and/or to sate your hunger, I can promise you that, even if it came from a stew with carrots and onions, we can still detect the myoglobin in your pots and faeces!"
"Did I ever tell you about old Dr Schweinfurth?" Yaya asked. "He was Provincial Veterinarian and Meat Inspector, also warden of the Sampit prison."
"Actually I met Schweinfurth once, on my first visit to Sampit. After the massacre he'd come across a day-old infant left under an oil palm in a broiling sun. Men were standing around, waiting for it to die so they could eat it."
Yaya flung the bone into the underbrush. "They may have been my friends, the ones who brought me this meat."
"It was horrible there," the Professor said. "Human entrails floating down the river, trunks of bodies lying about."
Yaya took something from his scrotal bag pouch, an areca nut wrapped in a betel leaf, and placed it between his lower lip and gum. "The great majority of the skulls brought to me by members of this tribe in the old days, to add to my collection, have been smashed to obtain the brains, and thus rendered useless. Some were still moist, and had the odor of recent cooking."
"What does human flesh actually taste like?"
"Well the taste of people meat varies. It has a nice and distinctive aroma as it cooks. But the taste depends on the life-style of the donor and whether they drank alcohol or preferred sweets or salty things. There is a basis for intrinsic taste, which is amplified by life-style. Cooking matters too. There is a huge difference if you cook people meat in an electric kettle or a hot plate. A slow roast is the best."