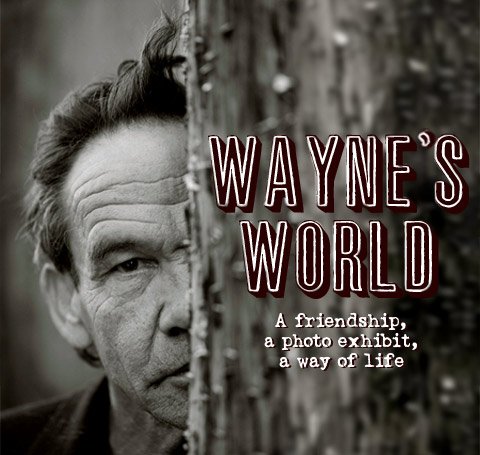 Monday, November 12, 2007
Now this is a fascinating subject. Screw waterfalls, birds, leaves, trees, doors, houses and other lame subjects. Let us have a bunch of pictures of Wayne Propst lining the walls of the Bourgeois Pig. Perfecto.
For those who are unfamiliar with Wayne Propst, he is the kind of person one might describe as a "local character." He lives on a farm north of town. He trades junk, fixes things, makes art, talks loudly at the Bourgeois Pig. He was a compadre of William S. Burroughs. He is difficult to define. This is why I asked him to define himself in a capsule. Here is what he sent:
"Wayne Propst's odometer reading....112,717....some on the road...Berkeley, New York, Albuquerque, Belize, Tonganoxie, Mexico....trying to participate as poet, gandy dancer, head start teacher, dynamic prison official, steel fabricator, construction biz, artist, politico, junk trade.....Carol and Louis my best mates....Nick has done a brutal job on me....he tells the truth....Prop really looks like that.....let us focus on Nick's images of a person who has tried to enjoy this planet... ........xo w"
Nick Vaccaro is a Lawrence native who until recently had been living in New York City working as a commercial fashion and portrait photographer. In June 2006 he was visiting Lawrence and eating dinner with his mother at Teller's. He saw a man there (Propst).
Past Event
Sunday, November 18, 2007, 7 p.m. to 9 p.m.
Bourgeois Pig, 6 E. Ninth, Lawrence
All ages / Free
"Hey mom," he said, "who's that guy over there? 'Cause I've got to photograph that guy."
He liked how he looked, the lines in his face. So he photographed him that day. And he kept photographing him. When he soon moved back to Lawrence, after 23 years in New York City, he started meeting him every morning for coffee at the Bourgeois Pig. He followed Propst around at his farm, at the dump (where Propst finds material for his art), on trips to Tonganoxie, everywhere.
In Propst, this small, wiry holdover of the 1960s-not like a guy with a long grey beard mumbling, "Remember Garcia, man?" but the spirit of experimentation-Vaccaro saw a way of life he admired. He saw somebody who didn't work 9-to-5, drove in to town for coffee each day in a pickup truck, who had lived it all, done it all, was fun, was funny, obscene, lived life exactly how he felt like living it. Vaccaro goes on about him.
"He's probably the most brilliant person, I think, I've ever met in my life," he says. "I've photographed a lot of celebrities and people who are mega-famous, whatever, but I just find him uniquely intelligent. Knows something about every single facet of life."
Vaccaro was at a crossroads when he started hanging around Propst. He left New York City. He bought two mountaintops in Washington, where he's building a farm and living part-time, between there and Lawrence.
Propst influenced him. For instance, this recently happened while he was cleaning up his new spread in the woods:
"I found all these dead mice, in the cabin and areas where I'm living, that are all the way down to almost skeletons. I decided to pick them up and dispose of them. And when I went to go do it I looked around the cabin for something to use to pick them up. I found these Valentine's cards.
"I put one of the mice on there and I said, 'This is just too Wayne.' This is the way I've learned from him. So I've got about 10 mice on all these different greeting cards that are all sappy and lovie-dovie and that kind of stuff."
I don't think this is translating well to paper. That's the problem. Propst doesn't translate to paper. A picture, on the other hand, is worth, etc.
More like this story on Lawrence.com