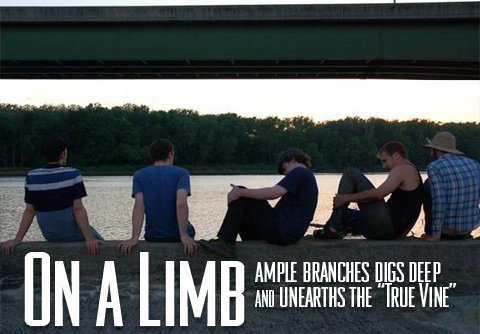 Tuesday, November 20, 2007
From the home studio of a tiny two-bedroom apartment at 11th and Tennessee to local stages, Ample Branches has grown into one of Lawrence's brightest new bands during the course of a busy year. The group's 16-song debut "True Vine" merits an honorary degree from the academy of innovative home recording-it would be "lo-fi" if only if weren't so well produced. Fans of homespun indie bands like The Microphones, The Books and Animal Collective will dig the collection immediately, but its more populist touchstones-The Beatles, Pink Floyd, Sufjan Stevens-lend "True Vine" an across-the-universe appeal. The album skillfully employs multi-tracked guitars, kitchen-sink percussion and an array of junkyard organs-one of which the group nabbed from a Justin Roelofs yard sale (along with a sweet Atari)-to create absorbing headphone suites. Songwriter Kevin Lawrence (formerly of Larryville's Box Social) and guitarist/singer Andy Wagner visited our podcast studio to reveal the prophecy of the "True Vine."
No-fi highlights from the podcast
lawrence.com: How did you transition from Box Social to Ample Branches?
Lawrence: Basically, Box Social ended due to some women : Nothing against them, but our drummer got engaged and our bassist is now a proud parent.
Wagner: Then Eric Hyde and Tyler Bachert from Conceptual Blue came in.
Lawrence: We actually met those guys where we work now we make pizza at Hy-Vee.
How does the pizza at Hy-Vee stack up to the other joints around town?
Lawrence: We've made it quite a bit better.
So this album is available on iTunes?
Lawrence: Yeah. We wanted a way for people who live far away to be able to get it.
Wagner: We'll send you a copy if you send us your address. It'll be burned off of our computer.
You list a number of influences on your MySpace page: Akron/Family, TV on the Radio, Grizzly Bear, Sufjan Stevens, Broken Social Scene, The Books, Animal Collective : Is that about what you're listening to these days?
Lawrence: Recently, we've been all about "Strawberry Jam" Animal Collective's new record. The new Radiohead is also awesome.
Wagner: Not to say that we only listen to indie rock. The new Kanye West record is also pretty good : Tyler is more classically trained, and he listens to a lot of stuff that I'm not familiar with.
Lawrence: We actually traveled to see TV on the Radio and Grizzly Bear do a couple shows last fall.
What in particular did you like about those bands?
Lawrence: Intensity, as far as TV on the Radio is concerned.
Creed is pretty intense too. And Sepultura.
Lawrence: True. It was more of a vocal intensity.
What about the Animal Collective record?
Lawrence: I think it's fairly accessible. If you haven't given it a chance yet, you should.
Wagner: I think they're pretty innovative. Knowing that they started doing all their recording from home is encouraging, because we do the same thing.
Did it take awhile to get the live show together?
Lawrence: We made the huge mistake of recording the album before we knew how to play the songs live.
Wagner: Some tracks might have like three Kevins, two Andys and four Tylers.
Lawrence: Before we had our first live disaster, we had to figure out how we were even going to bring it to the stage. Recently, we've gotten exponentially better.
You mentioned your drummer Chris Luckey lives in Cleveland. Do you have a drummer in Lawrence?
Lawrence: No. When Chris is at school we focus more on writing and recording. When he comes back he'll fill in the empty holes on recordings and we'll play a lot of shows.
There's a lot of percussion involved with this recording that's not typical trap kit.
Wagner: I love the sound of a snare drum, but we didn't get one until after we'd recorded "True Vine." We did a lot of kitchen noises.
Lawrence: We filled martini glasses with water and tuned them.
Wagner: Our kick drum is a mic in a large cardboard box with us hitting the sides.
Does the folky vibe of the band dictate lyrics?
Lawrence: That and the day-to-day at work since we work together.
Wagner: It's probably pretty funny to watch us at work because we walk around singing harmonies and coming up with lyrics.
Lawrence: A few songs on this album were actually conceived at Hy-Vee.
That's not all that was conceived at Hy-Vee (ba-doom-ch!) : So you actually work on harmonies while making pizza?
Lawrence: To the dismay of our co-workers and customers.
That's total VH1 material.
Lawrence: Yeah, look for that on "Pop-Up Video."