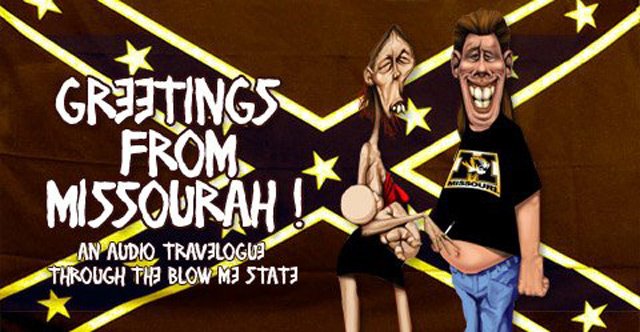 Tuesday, November 20, 2007

Warning: extreme satire ahead. Sense of humor highly recommended.
Presented by the Missouri Tourism Board (formerly the Grand Council of Aryan Confederacy)

No-fi version of the podcast
"Howdy, stranger! Lovely day for a constitutional, wouldn't you agree? Say, where 'ya headed? What's that? Someplace with art, culture and a diversified gene pool? Well, you've obviously never been to Missouri, partner. Yes, Missouri-we're the 18th largest state, our official tree is the flowering dogwood, and we haven't had a typhus outbreak in over three weeks. And you can take that to the Jew run bank!
Come again, stranger? Oh, you were just passing through? On your way to someplace less godforsaken? When your vehicle was attacked by feral mountain folk from the Ozarks? They laid out a crude spike strip fashioned from hog chitlins and sharpened chicken bones, blew out your tires and made off with your women folk? You say you've lost a lot of blood from the bite wounds and desperately need an ambulance?
Well, I'm not sure what this crazy "ambulance" is that you're jawing on about-let alone your gibber jabber about "medical attention" and "science"-but, hey, while you're pinned under this here upside down horseless carriage and I've got your undivided attention, let me tell you a little bit about this lovely scab of dirt and rock I call home. Why, it's a little place that I also like to call-Missouri: The Blow Me State."

Chapter 1
The Birth of a Missouri: Thanks, America's broken condom!
Missouri was introduced into the United States as territory obtained in the 1803 Louisiana Purchase, a deal struck between President Thomas Jefferson and France. It was a mutually beneficial arrangement, as the French were desperately looking to unload their worthless real estate following a collapse in the sub-prime beaver pelt market, and Jefferson needed someplace to keep all of his slaves. Fortune smiled.
Jefferson was specifically looking to stable those slaves he referred to as "hot slaves, bangable slaves-those slaves that are endowed by their Creator with unalienable rights in all the right places."
Factor in the lingering French culture of bedding minors from the same blood line, and Missouri's proud tradition of combining the subjugation of black people along with unchecked incest was born!
Missouri was officially recognized as a state in the Missouri Compromise of 1821, when Congress decreed that Missouri would henceforth be "business up front, party in the back." The world's most deliberative body also declared that Benjamin Franklin had, indeed, sported a "skullet." While this important compromise did much to atone for the national shame of indentured mulletude-ending the divisive battle of Short In Front, Long In Back which nearly tore our union apart-it frankly did very little to address that whole slavery thing.
MISSOURI LEARNIFICATION CHUNK: Did you know that "Missouri" is a Native American term? It stands for "diseased wasteland that not even the unbathed, syphilitic, cousin-loving French would stop having sex long enough with said cousins to empty their chamber pots in and is only fit to host Dane Cook and Garth Brooks concerts." The Native Americans had a very efficient language.

Chapter 2
The Civil War: Missouri's Demancipation Proclamation
While Missouri never officially seceded from the Union in the run up to the Civil War, it certainly wasn't for lack of pathological bigotry. No, it was primarily because a majority of Missouri inhabitants couldn't properly load a musket thanks to their lack of opposable thumbs, lost either through inbreeding or animal husbandry accidents.
After the rest of the South deemed Missouri too inferior to fight for the right to view people as inferior, Missouri decided that, "Fine, we don't need your stupid Civil War anyway! We're going to wage our own war-with Kansas! Suck it Jefferson Davis!"
And hence mass murder on a terrible scale would forever be trivialized by a college sports rivalry. (Incidentally, said trivialization continues this Saturday!)
MISSOURI LEARNIFICATION CHUNK: Did you know that during the border skirmishes leading up to and during the Civil War, Kansas fighters were called Jayhawks and Missouri fighters were called Bushwhackers? Historians attribute this to widespread moonshine abuse and a propensity to just make up words back then.
BONUS ANTI-INTEGRATION ACTIVITY! You can make your own nonsensical Civil War nickname by combining the name of the plantation you grew up on with the name of the first negro you disfigured with a hot brand!

Chapter 3
Bleeding Kansas: Missouri's bloodiest period gets all over Kansas' pants
Missouri's pro-slavery fervor-or "African free trade enthusiasm"-manifested itself in a series of violent raids into Kansas, who were totally being dicks by voting to free the slaves and making everyone else look bad. This border war culminated with William Quantrill's sacking and plundering of Lawrence on August, 21st 1863. Quantrill and his Bushwhacker guerillas killed nearly 200 men and boys and burned down a majority of the city.
The attack was sparked by a popular abolitionist frock coat of the day, embroidered with the Latin phrase "Dissouri vado planto miligo ut vestri"-which loosely translates to "Muck Fizzou." Quantrill, even worse than slaughtering the people of Lawrence, launched a retaliatory line of cravats savagely mocking the girth of free-soil Senator James H. Lane.
From the day of Quantrill's raid forth, Missouri's economy would be driven almost entirely by novelty t-shirts.
MISSOURI LEARNIFICATION CHUNK: Did you know that Quantrill's Raid is revered by University of Missouri fraternities as the very first panty raid? It's lovingly reenacted every weekend in sororities across Columbia, MO-except instead of torches, these latter day guerrillas are armed with massive amounts of GHB and rohypnol.

Chapter 4
Missouri Today: Number 14 in national obesity-with a bullet!
Missouri proudly wraps itself in a tapestry of tradition. It is a quilt that's not entirely riddled with gravy stains and free basing burns, and one which we swear doesn't have any more smallpox in it-so please build more casinos, Native Americans.
But Missouri is much more than just a historic legacy of hatred and murder-we're making great strides in hatred and murder to this very day!
While you may think Missouri is just a frightening patchwork of urban sprawl, type 2 diabetes and fly over country that rivals the most hellish of 3rd world disaster areas-well, it's all of that and so much more!
Here are some facts about Missouri that you probably didn't know-and, thanks to our crumbling public school infrastructure, we don't know either:
-Missouri's reputation as "The Show Me State" refers to its highly competitive ranking for sex offenders per capita.
-Missouri is known as the "Gateway to the West," because it leads to harder states like Crack Cocainorado and New Methico.
-Missouri's governor is Matt Blunt, and he really enjoys it when you make an allusion to marijuana involving his last name (it takes his mind off the corruption allegations).
-There are more trailer parks in Missouri than God knows how to destroy.
-St. Louis, Missouri's second largest city, is completely immobile without the aid of jazzy scooters and wheel barrows.
-Kansas City, Missouri's largest city, has more Applebee's restaurants than human beings.
-The University of Missouri now offers a degree in criminal law tailored to the legal needs of University of Missouri athletes, a field of law which is Missouri's fastest growing industry.
-The correct pronunciation is neither "Missour-ee" nor "Missour-ah"-it's "Arkansas Light."
-The St. Louis Arch, Missouri's most famous landmark, looks really obscene when you drive a large missile through it.
-The stench hovering over Missouri is not, as popularly thought, a toxic cloud of industrial pollutants and rotting pork byproducts-it is despair.
"There you are, friend-everything Missouri has to offer under the pure, white, miscegenation free sun! Whoa there, pal o' mine-don't lose consciousness from blood loss just yet! Now that you've had a chance to absorb our culture and history, some of it through the open gouge marks about your head and face, whaddya think? What's that? You'd like last rights administered? From a Catholic priest? Oh dear, I didn't realize it was that serious. I had no idea that you were-a dirty papist.
Here's the last lesson in Missouri hospitality I'm going to give you, stranger-we don't cotton to your types around here. In fact, we don't cotton to any types who aren't types that are the types we like to typify ourselves as. And let that be a lesson to everyone thinking about coming to Missouri-don't.
(gunshot)
Go Tigers! Death to the traitor Lincoln! And y'all don't come back now, y' hear?"
Brought to you by the Missouri Tourism Board (formerly the High Exalted Order of the White Dragon)