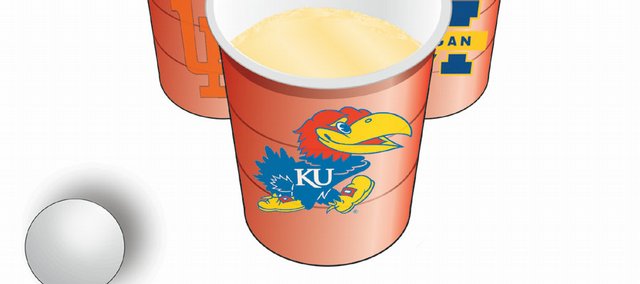 Friday, November 23, 2007
Party Central
How KU fared in Power Rankings:
¢ Average SAT: 980
¢ Average Temperature in February: 46
¢ Bar Closing Time: 2 a.m.
¢ Billboard Peak: 13
¢ Closest Taco Bell: 0.9 miles
¢ 'Cute College Girls' on CollegeHumor.com: 0
¢ Freshman Retention Rate: 79
¢ Male Vocal Groups: 1
¢ Number of pictures uploaded to CollegeHumor.com: 82
¢ Percent Commuters: 78
¢ Percent Female at School: 50
¢ Percent Greek: 14
¢ Stadium Capacity: 50,071
¢ Total Score: 71.3
¢ Rank: No. 49.
While pundits argue this week whether the Jayhawks football team deserves its national BCS ranking, there is another position attained by Kansas University that is equally debatable.
According to CollegeHumor.com, KU has squeaked into the top 50 of its "Power Rankings" list.
The popular humor Web site devotes its studies to determining what school prospective students should choose if their desire for fun outweighs that of academic demand. KU placed at No. 49.
"The idea is where would Ferris Bueller want to go to college? Where could you go to not do a lot of work but have a really good time?" says Streeter Seidell, front page editor of CollegeHumor.com.
"From the standpoint of a school administrator, not being ranked on here is probably good. However, from the student standpoint, I think it would be nice to be known as a school where you can have fun."
Unlike other ratings systems, which focus on grade-point averages and graduation rates, the second annual Power Rankings scrutinize more unorthodox traits.
Culled from a total of 13 categories, colleges can gain points for how many Billboard-charting bands come to their school or how close the nearest Taco Bell is to campus. And they can lose points based on the average temperature in February or what time the area bars close.
"The results are extremely scientific," Seidell deadpans. "You'll find our equation is very smart-looking."
Rival rankings
Unfortunately - or fortunately, depending on one's perspective - Kansas State outranked KU at No. 37, as did Mizzou at 43.
"No one has accused us of being overly sober, so this is not surprising," says KU spokesman Todd Cohen of the ranking. "But we are smiling the most about being No. 3 in terms of average SAT. Being smart and fun is a very attractive quality KU has."
CollegeHumor.com bases the list on the top 70 most active schools on its site - those with the most users and uploads. That is narrowed down to the top 50. This year's winner was Penn State, followed by Virginia Tech and the University of Oklahoma.
Seidell explains that some newly introduced categories significantly swung the results from last year.
"The biggest thing that threw it was the average temperature in February category, which dropped Michigan way down. It built up schools like Virginia Tech and Florida. Surprisingly, Penn State - which is fairly chilly in the winter - was able to pull through," he says.
He also says many people expressed concern with regard to the fraternity category. Some disagreed that having a greater percentage of greeks should be considered a positive stat.
"I wasn't in a frat, so I don't owe any allegiance to any fraternity. But the more frats there are, the more parties there are going to be," he says.
Putting the sex in sexist
In keeping with the Ferris Bueller perspective, certain categories seemed to skew toward that of a heterosexual male. (Schools were rewarded for having a greater percentage of female students and penalized for the amount of male vocal groups on campus.)
At times, that viewpoint appeared more Van Wilder than Ferris Bueller.
"I don't like to say it's sexist. Let's say male-centric," Seidell counters. "But also, when you think of who would look at this and say, 'That's a fun list,' it's probably going to be a guy. You find a lot of party-animal guys; you don't find so many party-animal girls - which is a shame."
Seidell says he receives a swell of feedback from readers about the rankings. This is especially true of those from smaller colleges, who usually make reasonable claims that their schools "party harder" than the major ones.
"Everyone who goes to a school that didn't rank gets upset - as if this were a very serious thing like a U.S. News & World Report listing," the 24-year-old Seidell says.
"We also heard from a lot of administrators last year. It trickled down to us through certain articles calling into question the scientific value to our research and methods. Mainly, our scientific method is having one overworked intern calling all these schools."
Making a choice
CollegeHumor.com was founded by students in a dorm room in 1999. The site now boasts a loyal following of more than 7 million unique readers a month.
Penguin released a book last year called "The CollegeHumor Guide to College: Selling Kidneys for Beer Money, Sleeping with Your Professors, Majoring in Communications, and Other Really Good Ideas," which Seidell co-authored. A CollegeHumor movie project with Paramount Pictures is reportedly in development.
"We're a Web site that features original articles, videos and pictures from college kids across the nation. We have a lot of user-submitted content and produced-in-house content. Ideally, we like to be the place you go to waste your time," Seidell says.
The writer-editor started working at the site nearly three years ago after being a columnist at Fordham University in the Bronx.
Ironically, Seidell's alma mater is nowhere close to earning a Power Rankings slot.
"I would imagine it would be number 10,000. It's a relatively small school, it's Jesuit, and there is no stadium. There are plenty of Taco Bells, though," he says.
Seidell says there's nothing wrong if students actually base their choice of college upon information reaped from the Power Rankings.
"If they're looking to have a good time at a big school, I don't see why not," Seidell claims. "That being said, we are a humor Web site. One must take that into account when considering the scientific worth of our rankings."