Monday, November 26, 2007
Craig Calkins
Major: architecture
Age: 20
Hometown: Kansas City, Mo.
Time in Lawrence: 2 years
What were you doing when scouted? Waiting for a lecture and smoking a cigarette.
Favorite clothing store? TJ Maxx or Kohl's. They have good clothes for cheap and sometimes they have my style. Most of the time I just go to thrift stores.
How often do you go shopping? How much do you spend? If I have to go by a pair of shoes or it's a change in season I'll go. I don't spend that much on clothes because I rotate and recycle. I spend between $50 and $60 a month maybe.
How would you describe your style? That's difficult. I was thinking about that today and I don't know. I've got my Pink Floyd shirt on, corduroys. It would probably tell somebody that I have some sort of hippie background or something. I don't have the hair to go along with it. Pretty laid-back and down to earth.
Photo Gallery
Style Scout: Craig Calkins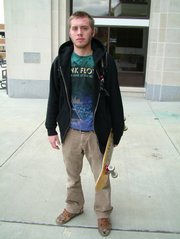 What time do you get up? How long do you spend getting ready? I normally get up about 9, 10. It takes me about 10, 15 minutes to walk out the door.
Favorite trend? The corduroy blazers, the jackets that I see some people walking around with. Least favorite? Pink Uggs.
Tattoos? Piercings? None.
Favorite coffee shop in Lawrence? I don't go to coffee shops. Do you drink it? No. Only when it comes time for cramming.
Favorite bar? I like to go see a lot of shows and I like to go to Quinton's. It's pretty chill. Most of the time there's 21-and-over people there. Sometimes The Hawk gets too freshie for me.
Is there anything you'd like to see more of in Lawrence? Less of? I'd like to see more skateboarders and I'd like to see less of White Owl. White what? While Owl? You know, the guy on Wescoe, always yelling and stuff? He's the hippie guy. If you walk around there, he's there every day. Less of him, definitely.
Who's got style? Johnny Depp, because I like him in a lot of the movies that he does, especially "Fear and Loathing in Las Vegas." He's bad ass.
Tell us a secret: You can go smoke down by Potter's Lake pretty much any time of the day that you want to.
More like this story on Lawrence.com