Monday, November 26, 2007
Hetal Shah
Major: biochemistry
Age: 20
Hometown: Nairobi, Kenya
Time in Lawrence: 1 year
What were you doing when scouted? Selling tickets for the UNICEF dinner.
Favorite clothing store? Wet Seal. They have good fashion clothes and it's cheap.
How often do you go shopping? How much do you spend? If I go shopping once a week I'll probably spend $50, but if I go once a month I'll spend at least $200 or $300. I usually go once a week so I don't feel like I'm spending a lot in a small period of time.
How would you describe your style? I'll wear anything that's comfortable. I don't care what people think about me when I wear what I wear, as long as I'm comfortable and I feel that I look good.
What time do you get up? How long do you spend getting ready? I usually get up an hour before my class and it takes me half an hour to get ready.
Photo Gallery
Style Scout: Hetal Shah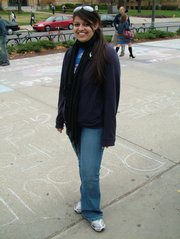 Favorite trend? Jeans and a hoodie, because it's cold. It's freezing cold. Least favorite? What I don't like is when everyone's wearing shorts and it's freezing cold outside. I'm like, 'How the hell do you do that?' because it's really cold. Does that happen very much? Oh yes, it does. Like right now, it's freezing cold and I've seen people walk by wearing shorts and skirts and a big-ass hoodie on top. That just doesn't work. You've gotta be warm.
Tattoos? Piercings? Nose and cartilage pierced.
Favorite coffee shop in Lawrence? I don't have a favorite coffee shop. I don't drink coffee. Favorite place to hang during the day? I love Anschutz Library. I'm pretty much there all the time. I have no social life this semester.
Favorite bar? I love Brother's. They have cheap alcohol and good music.
Is there anything you'd like to see more of in Lawrence? More stuff to do when you're chilling. Everything closes by 10, so I wish the restaurants were open for a longer time. Less of? I love Lawrence otherwise. It's a beautiful place.
Who's got style? Josh Duhamel, because he looks good in whatever he wears. He's the actor in "Transformers," he was in "Las Vegas." He's really cute. He's Fergie's boyfriend, in case you were wondering.
Tell us a secret: I'm in love with Sherron Collins. I'm in love with Sherron Collins. He's an awesome basketball player and he's really cute. Maybe he'll read this. Maybe he will and then he'll come look for me.
More like this story on Lawrence.com