Andiy Ransom
Hometown: Olathe, KS
Age: 23 1/2
Time in Lawrence: 6 years
Occupation: Stylist / Dancer & Singer for Hairy Belafonte (local band)
What were you doing when scouted?
I was getting ready to cut some hair at Static Hair Salon.
Favorite clothing store?
My favorite clothing store is Arizona Trading Company because they have the most variety in town for decent prices. And their staff is totally hot. I also frequent Wildman Vintage; Urban Outfitters; TJ Maxx, I just love that place; & The (Social Service) League.
How often do you go shopping each month?
Once a month. Just like my period. I usually spend about $25 a month because I'm on a really tight budget while I'm paying off about three years worth of parking tickets!
How would you describe your style?
Totally awesome. (Laughs.) I'd wear anything Harry Belafonte would wear.
What does your style tell strangers about you?
That I'm a big slut. (Laughs.) That's good. No, seriously, I try not to analyze my style too much because it ruins it. I read lots of movie star magazines to pull inspiration from them. I think people can see I love vintage clothing.
How early do you get up? How much time do you spend getting ready?
I get up at 8:15 every morning. It takes me about 30 minutes to get ready. I usually listen to NPR and drink coffee when I get ready. It makes me feel intellectual.
Photo Gallery
Style Scout: Andiy Ransom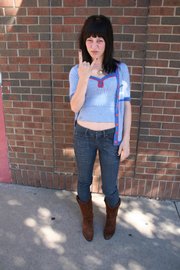 Favorite trend for this season? Least favorite trend right now?
My favorite trend would be jewel tones and the wide-legged pants that just came out. My least favorite trend would have to be the classic KU college garb. It never changes. It stays the same every year and looks dumpy on everyone. Lawrence.com: Could you describe this look for us? You know, the 'I just rolled out of bed and smell like dirty socks, but I don't care 'cause I live in Kansas' look. It's like pajamas pretty much. Who does that?
Where do you get your hair cut?
I get my haircut at Static Salon because I work there and it's a really positive environment.
Tattoos?
I have them all over the place, but my favorites are wheat stalks on my calves. I only go to Big Daddy Cadillac's. This one on my arm is a tribute to my mother.
Favorite coffee shop?
I feel loyal to Henry's because I worked there for so long and it's right across the street from work.
Favorite bar in Lawrence?
I'd have to say The Replay because it's where all the cool people go. And I want to be cool like them.
Is there anything you'd like to see more of in Lawrence? Less of?
I'd like to see more racial diversity. And more good places to shop. I'd like to see less white people.
Tell us a secret:
I don't wear any underwear. (Laughs.)