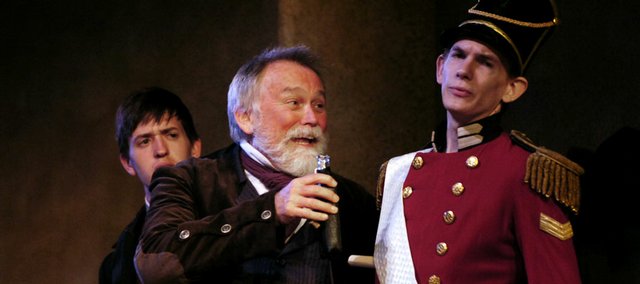 Audio clips
Kip Niven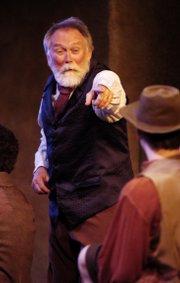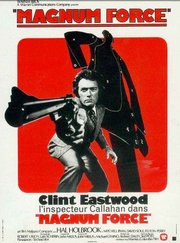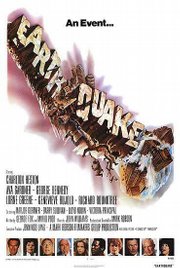 'Translations'
When: 7:30 p.m. today-Saturday, 2:30 p.m. Sunday
Where: Crafton-Preyer Theatre, Murphy Hall, 1530 Naismith Drive
Tickets: $10-$16
More info: 864-3982
Kip Niven and Murphy Hall have waged many battles together. In fact, the theatrical facility has proven a primary ally during his lifetime of acting.
"I wouldn't want anybody to look at my transcript from KU, but I'd be happy to have people look at my resume. I worked in a gazillion shows while I was there," Niven says.
The 1968 graduate of the Kansas University theater department says his time spent at Murphy Hall "fundamentally shaped my career." Later on, the Murphy connection earned him a healthy contract in Hollywood. Now, the 62-year-old actor is returning to the building's Crafton-Preyer stage for the first time in 40 years.
"I've been back to direct. But this is the first time I've done it as an actor," he says.
Niven is enjoying a plum role in "Translations," a three-act by Irish playwright Brian Friel. The story focuses on the people of a small village in 1833 Ireland struggling to adjust to the imperial British who are remapping and renaming their homeland. Niven portrays Hugh, the town's colorful schoolmaster.
"It takes the stereotypical character of an Irish drunk and turns it on its head," Niven says. "He's extremely smart. He speaks fluent Latin, Gaelic, Greek and English. He's extremely foolish, bombastic, over the top."
The KU production is directed by Doug Weaver, a KU theater alumnus and director of theatrical arts at Bishop Seabury Academy.
"Hugh is that incredibly intelligent-but-pompous teacher we've all had at one point in our lives. Kip has a way of taking that and making it real and making it personal," Weaver says.
Weaver has known Niven since the late 1970s and was pleased that an actor of his stature was interested in "Translations."
"Everything that we try and teach young actors, Kip just does it," Weaver says.
Beyond Kansas
It's unlikely that the students who are sharing the stage with Niven in "Translations" are familiar with the volume and diversity of his professional output - 66 film roles and television series, according to the Internet Movie Database.
"Most of the screen work I've done predates them," Niven says. "None of the things I've done they've probably ever seen in the theater. Frankly, that's nothing I'm real concerned about. We're having a good time just working as peers."
A native of Prairie Village and graduate of Shawnee Mission East High School, Niven's journey began at KU in 1964. The young actor became wrapped up in the theater program, performing in at least two shows at Murphy Hall each semester.
"The caliber of the acting pool was extraordinarily high," he says of the department in that era.
But Niven wasn't just relegated to performing "Oliver Twist" for the home crowd. KU offered him unique opportunities to showcase his craft around the world, thanks to the State Department Cultural and Educational Exchange Tour. In the summer of 1966, Niven was one of six student actors from KU who went to study and perform for two months at professional actor training schools in Czechoslovakia, Poland, Romania and Yugoslavia.
"The Iron Curtain was fully in place then, and rigidly so. There were very few student groups to ever go there at that time. It was one of the fundamental experiences of my life," he recalls.
After Niven graduated KU in 1968, he served three years in the Army, including a tour in Vietnam as a lieutenant in the artillery.
"I left here with a tremendous amount of work behind me that I was able to build on by the time I got out of the Army and started my professional career in Los Angeles," he says.
Serving as a springboard for Niven was Murphy - the actual Franklin David Murphy whose name adorns the KU theater facility. Murphy was serving as chancellor at the University of California-Los Angeles. Niven met with him out there, and Murphy agreed to put in a good word with his buddy Lew Wasserman, who was head of MCA/Universal.
This led to a five-year contract with Universal Pictures in which Niven appeared in nine feature films and nearly 50 TV episodes.
Daily variety
"One of the things that I'm proud of in my career is the variety," Niven says. "I'm pretty much comfortable with comedy or drama - or you can say I have the same degree of discomfort."
During his more than 15 years living in Los Angeles, Niven admits he became accustomed to being tagged a "character actor." ("It's all character work, really," he says.)
"The more in touch with who I am and what I have in common with the character, the better my work is. A character is not a costume. It's something you wear from the inside out, not outside in," he adds.
Niven decided to move back to Kansas in the mid-'90s after ending a nine-year marriage to actress Linda Lavin, best known for her starring role in the sitcom "Alice."
The Leawood resident became a founder of the KU Theatre and Film Professional Advisory Board and a member of the Kansas and Lawrence Film Commissions. He also is enjoying his 12th season as a cast member of Lawrence-based comedy troupe Right Between the Ears.
"I've done musicals, comedies, dramas, contemporary and period pieces, television, film, commercials, radio," Niven lists. "I jokingly say that if there's a way for an actor to earn a dollar without taking your clothes off, I've probably done it."
Cinematic roles
With so many roles to his name, Niven is happy to comment about some of his more recognizable big-screen work:
¢ "Magnum Force," playing one of four vigilante cops (including Robert Urich, Tim Matheson and David Soul) who take on Clint Eastwood in the first "Dirty Harry" sequel:
"Everything I know about how films are made, I pretty much learned on that set. Because Clint was an actor who became a director, he was very willing to let actors find out about what was going on. ... But the extraordinary gift was that Clint allowed me to sit in the room with Ferris Webster, the old-guard editor, as he was cutting together the scenes I was in."
¢ "Earthquake," portraying the seismology student who predicted the disaster but couldn't convince anybody of his findings:
"Everybody who came to the theater knew there was going to be an earthquake and that I was right, so people paid attention to that role."
¢ "Damnation Alley," as one of the few military survivors of a post-apocalyptic world:
"The idea of four people surviving the Holocaust because they're in a nuclear silo, then coming up and seeing 'what hath been wrought' is a cool idea. But it fell apart at the end with the giant scorpions and stuff."
¢ "In Cold Blood," in a bit role that proved to be his first feature film experience:
"That group of six actors that performed together in Eastern Europe, we all auditioned together for director Richard Brooks when he came to Kansas City. ... We did a group improv, and the subject was, 'What the hell are we going to use for an audition piece for Richard Brooks?' Five of the six of us were cast."