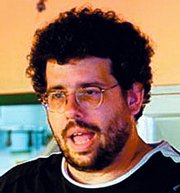 Neil LaBute spent years at Kansas University perfecting his skills as a playwright. Since that period he has become the most celebrated filmmaker to hail from the university, developing a controversial reputation for placing amoral individuals in schemes of revenge and betrayal.
As part of the 2007 Literature/ Film Association conference "Adaptation, from Stage and Page to Screen," LaBute is returning to Lawrence to deliver the keynote speech at 7 p.m. today at Woodruff Auditorium in the Kansas Union.
Titled "Life Onstage and on Film," his presentation will include clips of movies adapted from his plays, including "The Shape of Things" and "In the Company of Men." The event is free for conference registrants and KU students, $5 for the public.
"Having been a professor, I do feel very comfortable in an academic setting. We'll see how I feel talking about me. Not sure yet," LaBute says. "I'm very happy to return to Lawrence; haven't had many opportunities since I graduated, and I really look forward to it."
LaBute earned a master's in theater and film history from KU in 1989. His debut feature, "In the Company of Men," won the Filmmakers Trophy at the 1996 Sundance Film Festival. His later work includes "Your Friends & Neighbors," "Nurse Betty" and last year's remake of "The Wicker Man."
"I think perhaps 'Company of Men' is the simplest and most compelling adaptation I've done so far. It's very lean and mean," the 44-year-old says.
"Besides being an internationally known and respected filmmaker, Neil's been good to his alma mater," says John Tibbetts, associate professor of theater and film and conference director. "Moreover, he's in the unique position of adapting his own stage plays to the screen - which is the whole theme of the conference."