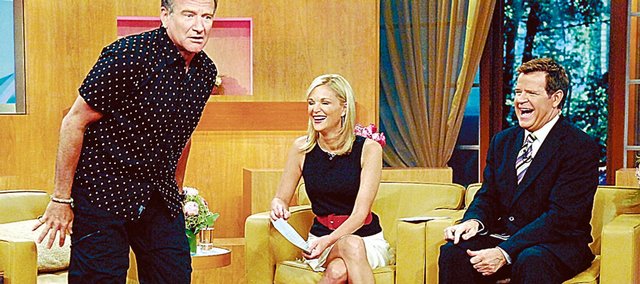 'The Morning Show with Mike and Juliet'
When: 9 a.m. every Monday-Friday on Sunflower Broadband Channel 4
On the surface it fits the conventional setup of other syndicated morning shows.
The distinguished male host. His younger blond cohost.
The duo offers a bit of bickering and bantering between interviews with movie starlets, crime victims and libido experts.
But to anybody who has watched a few minutes of "The Morning Show with Mike and Juliet," the contrasts begin piling up immediately.
"We're a little different, we're quirky," says Mike Jerrick, cohost of the fledgling show. "It might be a little risky to have two people like us who are together on the air. ... Sometimes we talk too frankly about relationships we've been in and mistakes we made. I don't hear anybody on 'Regis and Kelly' talking like that."
Jerrick is a divorced father of two. His co-host, Juliet Huddy, has been married twice previously. Both are currently single and, uh-hum, outspoken about their availability.
"The standard way of putting people together in the past on national television is you want to make sure you have a mom so she can talk about her children. Then all the moms out there can relate to her better. But there's a heck of a lot of people who are in our situation now - maybe half the country," Jerrick says.
"I'm not embarrassed about that, and I can still talk about my kids and what they had to go through with a divorce, how you still have to stay together as a family. I think there's value in that. Not everything is absolutely perfect with these on-air people, and sometimes they try to create the illusion that it is."
Jerrick, a Kansas native and Jayhawk alumnus, is enjoying his highest-profile gig yet after decades in network news and entertainment. His newest venture - live from Fox Studios in New York City every weekday - gives him the perfect spotlight to showcase his gift for dry-witted conversation and confident topical reporting.
A typical "Mike and Juliet" show boasts a collage of info that would be at home on "Inside Edition," "Oprah," "Live with Regis and Kelly" and/or "The Today Show." It's what the program's press materials deem "a unique mix of celebrity interviews, audience participation and engaging segments about topics relating to viewer's lives."
(The program airs 9 a.m. Monday-Friday on Sunflower Broadband Channel 4.)
"We're much more topical than other morning shows. A lot of those are on tape, and they edit it down to the 44 minutes of program. But we don't have that luxury - although I don't call it a luxury because I like to be much more topical," says the 53-year-old Jerrick.
That's not to say "Mike and Juliet" is all wall-to-wall coverage of the latest celebrity parole fiasco. No, there's plenty of towel-snapping fun to be had, especially when it comes at the expense of Jerrick's cohost. Fueling this good-natured ribbing is the fact that Huddy is - gasp - a proud University of Missouri grad.
"We have played up the rivalry quite a bit. I think we've done enough of it. We don't want to make people sick around the rest of the country. But it's been heating up again now that both football teams are freakishly in the top 20," Jerrick says.
Journalistic climb
"Mike was always real creative and articulate at a young age. He could carry on a conversation with anybody," says Steve Grant, the recently retired athletic director of Free State High School.
Best friends Grant and Jerrick met in second grade while growing up in Wichita. They attended grade school through high school together, then ended up roommates at Kansas University.
"Looking back, this is not a surprise at all that he's had all this success," Grant says. "He's got all the tools those folks need. Of course, at the time when we were 10-year-old kids, I thought he was just goofy."
Jerrick graduated from KU in the late 1970s with a degree in broadcast journalism.
"It gave me a really good solid base in journalism itself," Jerrick says. "But it gave me just enough information in the broadcast side to know that's what I wanted to do for the rest of my life."
While still living in Lawrence, Jerrick began working at WIBW television in Topeka. That led to a job with the show "PM Magazine" at KMBC television in Kansas City.
"I remember while I was working in Topeka thinking, 'Someday - maybe in my 40s - I can work in Kansas City' because I thought it was such a big market. That luckily happened for me when I was in my 20s. Then almost instantly after that some folks in New York saw my work, and I was hired by Channel 5, the Fox station here in Manhattan. It's been New York or L.A. ever since," he says.
Jerrick admits his rise through the television ranks was aided by his Midwest demeanor, specifically his accent ... or lack thereof.
"I think I heard Johnny Carson first talk about this," Jerrick explains. "He was born in Iowa, then grew up in Nebraska. He said one reason he thought he was successful was because you can't tell where he was from, so you don't irritate people who don't like people from that particular area - like a Southern drawl or a New York accent. It has helped being generic. 'Mike Generic.'"
Opening up
"The Morning Show with Mike and Juliet" (produced by 20th Century Television, not the Fox News Channel) has allowed the host to return to the up-to-the-minute news reporting he enjoys most. But it has also afforded him the opportunity to interview all types of renowned guests.
"I like it when I'm surprised by people," he says.
"One that comes up is Quentin Tarantino. I didn't know what to expect, but boy did we have a great time. He was so incredibly open. You don't want somebody to come on and say, 'I'd rather not talk about this, this and this.' ... Tarantino was very refreshing. So was Robin Williams. He was very open. ... Other ones you know it's not going to go that way. Like Mira Sorvino was on (Monday). I love her, but we started getting into personal questions during the commercial break, and she said, 'Yeah, but I want to talk about the movie.'"
Of course, the show has not been without its share of on-air mishaps.
A staged intervention with a drug and alcohol abuser ended up being "uncomfortable for everyone." And a segment with a hypnotist "seemed fake" to Jerrick.
And there was the time the studio lights went out.
"But we turned that into fun. We were talking about sex, and people were admitting things they were surprised they were admitting. In the middle the lights go off, so I said, 'This might be best. If you can't tell who's saying what, we might really be open,'" he recalls.
Battle royale
Jerrick's show launched in January, then rolled out to a wider release in September, where it is now available to 98 percent of the country. Ratings are strong, but Jerrick admits it's "a real uphill climb" trying to unseat the other morning show juggernauts.
So if it came to blows, could Mike and Juliet beat up Regis and Kelly?
Jerrick says, "I believe I could take Kelly because she has to be about 89 pounds. And Juliet could definitely take Kelly. Regis - have you ever seen him without his shirt on? He's strong. I believe he could knock the crap out of me."