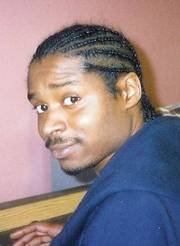 He was a hip-hop artist who performed in a musical genre that often focused on a world of money, drugs, guns and women.
A year ago, that world became all to real for Anthony "Clacc" Vital.
On the morning of Oct. 15, 2006, the body of Vital, 28, was found along the side of a private country lane west of Lawrence. He died from multiple gunshot wounds.
The case remains unsolved.
"It's still an active sheriff's department case and it hasn't been turned over to us yet," Douglas County District Attorney Charles Branson said recently.
Twelve months after Vital's death, sheriff's officers remain busy with their investigation, Lt. Kari Wempe said.
"Detectives are still working on new information that is coming in, and they are following leads," she said.
If investigators know why Vital was killed, they aren't saying.
But the investigation - which has included work by agents with the federal Bureau of Alcohol, Tobacco, Firearms and Explosives - has led to arrests and charges stemming from the Vital case.
Major C. Edwards Jr., 27, is charged with five counts of being a felon in possession of a firearm and one count of having a firearm not registered to him. He is scheduled to be tried in federal court next month.
According to court documents, Vital's wife said Edwards, also known as "Ja Ja," was with Vital the night before her husband's body was found.
Among others caught up in the Vital investigation was Carlos R. "Smurf" Green. Green, 22, was charged with being a criminal in possession of a firearm and explosives. He pleaded "no contest" to that charge, and a Douglas County judge sent him back to prison because of a parole violation for a previous conviction.
The investigation also led to Audrey Ferguson, 49. In November 2006, officers obtained a search warrant for Ferguson's Lawrence apartment. She was charged with obstruction of justice because she allegedly told her roommate not to cooperate with the officers. The charge was later dismissed.
James Neal Williams, 46, also was charged with obstruction of justice in the Vital investigation. Williams disappeared after Douglas County District Judge Paula Martin gave him a one-day furlough from jail to see a girlfriend in a hospital. In February - a month after his disappearance - Williams failed to show up in court for his sentencing. Williams was eventually found in Florida but no other details were available about his case Friday.
Vital, who was born in Lake Charles, La., moved to Lawrence in 1996. At the time of his death he was a member of a local hip-hop group calling itself Da BombSquad. He used the stage name "Clacc."
Other members of the group couldn't be reached for comment, but last year some of them told the Journal-World that they hoped to become the first big hip-hop act to come out of Kansas.
Edwards also was in the music business, according to court documents. After being identified as a "person of interest" by the sheriff's office after Vital was killed, Edwards was arrested in Mississippi on the federal gun charges. This year, after undergoing a mental examination, a federal judge ruled Edwards competent to stand trial. That trial is scheduled for Nov. 5.
But Edwards has not been able to keep his attorneys, according to court records. He has gone through three of them in less than a year.
John Duma, a Kansas City, Kan., attorney, was recently appointed to take over the case. Duma said Friday he likely will ask that the trial be continued so he can become familiar with the case.
"I haven't even met my client yet. I need to talk to him, but I can't imagine any scenario where in that I'm going to be prepared to go to trial because I'm not," Duma said.