Podcast episode
Obscure fat jokes collide with not so obscure fat jokes! Al Gore, KU football, NSA wiretapping and competitive alcoholism get the Actual News treatment. It's Punditocracy's pod-sized digestive of not so current events!
HINDSIGHT BEING 9/11
Former Qwest Communications chief executive Joseph Nacchio, appealing a conviction for insider trading, alleged that the government withdrew opportunities for contracts worth hundreds of millions of dollars after Qwest refused to participate in an unidentified National Security Agency program that the company thought might be illegal. According to court documents unsealed last week, Nacchio said the NSA approached Qwest in 2001 about the warrantless surveillance of American citizens more than six months before the September 11 attacks.*...The NSA argues that, while the surveillance program is indeed unconstitutional, it is a vital tool in preventing terrorist attacks-"except for that whole 9/11 thing."
KING OF THE SWILL
A recent Lawrence Journal-World analysis of liquor tax numbers from the Kansas Department of Revenue shows that Lawrence is No. 1 when it comes to alcohol sales. State figures showed that Douglas County liquor sales amounted to $326 for every man, woman and child in the county during 2006. That's more than $100 greater than the statewide average of $213 per person, and is nearly $40 more than any other community in the state.*...Douglas County celebrated the news of its liquor sales victory by getting hammered, hitting on a visibly uncomfortable Potawatamie County, and then passing out in a puddle of PBR.
THE PORN ULTIMATUM
Former Kansas Attorney General and current Johnson County Attorney General Phill Kline has brought indecency charges against three businesses in Johnson County. The charges alleged that DVDs and sex toys sold at Priscilla's and Gringo Loco in Olathe, as well as adult costumes sold at Spirit Halloween in Overland Park, were "promoting obscenity." Charges against Spirit Halloween were dismissed last week, but the cases against Priscilla's and Gringo Loco will move forward.*...Kline has filed a motion asking for more time-and more hand lotion-to study the evidence.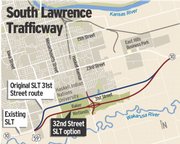 STARK PAVING MAD
A Lenexa traffic engineer hired by the city of Lawrence said last week that the proposed South Lawrence Trafficway (SLT) will be less effective if it is not built through a protected nature preserve. Jim Trobenan argued that building the road through the Baker Wetlands, north of the Wakarusa River, will do more to alleviate traffic congestion on 23rd and 31st streets than building the SLT south of the Wakarusa River. Other consultants counter that the 7% difference Trobenan cites is negligible, especially considering the Baker Wetlands are sacred to Native American tribes and serves as a habitat for numerous plant and animal species.*...Later this week, another highly paid consultant will suggest the wetlands be paved over with a slightly less expensive concrete mixture consisting of the remains of Native American graves and polar bear tears.
NOBEL GOREATE
Former Vice President Al Gore won the 2007 Nobel Peace Prize last week, cited by the Nobel committee for his efforts to raise awareness of and combat global warming. Gore shares the prize with the U.N.'s Intergovernmental Panel on Climate Change. Gore's Nobel Prize caps a year in which he has already won an Academy Award and a Grammy. World leaders, including President Bush, congratulated Gore on the prestigious award. Gore said he was "deeply honored. We face a true planetary emergency. The climate crisis is not a political issue, it is a moral and spiritual challenge to all of humanity."*...Shortly after congratulating Gore, the White House filed a brief with the U.S. Supreme Court to figure out some way of overturning the Nobel election. Meanwhile, fellow former Vice President Dan Quayle is busy building a pillow fort.
DANE IN THE ASS
Tickets for popular comedian Dane Cook's appearance at the Sprint Center in Kansas City went on sale last week. Cook is a stand-up comedian with a huge cult following who has starred in films such as "Employee of the Month" and "Good Luck Chuck."*...Opening up for Cook will be an equally funny limbless Sudanese orphan dying of syphilis. When reached for comment, Larry the Cable Guy said of Cook, "He makes me look like the Dean of the Algonquin Round Table-and I don't even know what that means."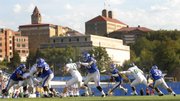 TWO, NO SIX, NO TWELVE--BAKER'S DOZEN!
The first college football BCS standings were released Sunday, with KU's undefeated team ranking No. 13 in the nation. The BCS (Bowl Championship Series) standings are a the result of a complex computer equation that factors in two major polls-the USA Today poll and the Harris Interactive poll-and six computer rankings that take into account a number of complicated factors such as schedule strength. The No. 13 ranking puts KU ahead of perennial powerhouses-including last year's champs Florida, USC, and Auburn-as well as conference rivals Missouri and Texas. Oklahoma (who does not play KU this year) was the only Big 12 team to rank higher than the Jayhawks, coming in at No. 5. The BCS poll determines which two teams play in the National Championship game Jan. 7 in New Orleans. It also has a hand in figuring out who plays in the four BCS bowls-Fiesta, Rose, Sugar and Orange. Six regular-season games-including Saturday's at Colorado-separate KU from the postseason. *:In response to KU's uncharacteristically good football team, Karma had to sink the island nation of Palau. "I had no choice," said Karma. "Mangino actually broke the cosmic scale."