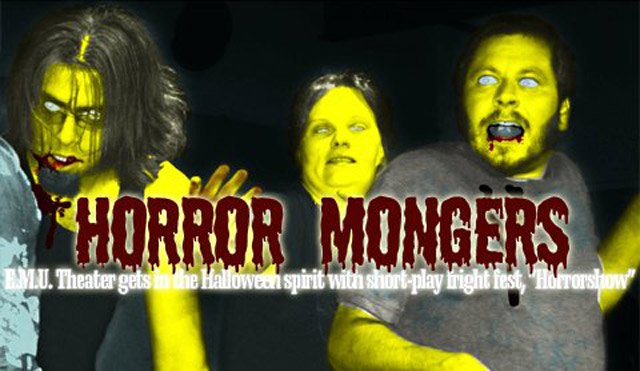 One can only assume that, in the theater community, loss of bowel control among your audience is tantamount to a standing ovation. So when a performance space at the Lawrence Arts Center became available in late Ocotber, the E.M.U. Theater Company couldn't resist the opportunity to scare the crap out of people. E.M.U., being a scrappy no-budget theater troupe with a bent towards the underground, solicited original short works from the Lawrence community to revolve around the Halloween appropriate themes of fear and terror. From a gothic morality play about premature burial to a full blown zombie spectacular-with plenty in between-E.M.U.'s "Horrorshow" will attempt to fill your pants with live action chills. E.M.U. president Jeff Sorrels spoke with us about exorcising the bejesus out of theater folks and why, exactly, there will be no prostitutes at "Horrorshow".
lawrence.com: First of all, why E.M.U.? Why not some other large, flightless bird like a cassowary?
Sorrels: Somebody wanted to call it E.M.U. after the bird, but then someone said, "Let's make it an acronym after the bird!" Well, what does the acronym stand for? "Let the people decide!" There was a lot of resistance to make sure there was never an actual acronym. However, when it came time to design a logo, somebody made one with the bird and it looked really good. The acronym has sort of fallen by the wayside. E.M.U. was started by some folks who were KU theater students and they wanted to put on shows that they wrote. They wanted to do some riskier shows that the established theaters in town wouldn't be interested in doing. "Why do we need to rely on them? Let's just do it ourselves." Our first show was in the Java Break.
Past Event
Friday, October 19, 2007, 8 p.m.
Lawrence Arts Center, 940 New Hampshire St., Lawrence
All ages / $6
How did "Horrorshow" come about?
Everybody loves zombies. They've been a big thing the last couple of years-not quite at pirate/ninja levels, but they're still up there. Somebody bought the "Zombie Survival Guide" last year and we sat down and originally wanted to do something solely zombified. A lot of the people in the collective wanted to explore some other themes, for example the one I wrote is in more of a gothic-style horror, there's one that's a throwback to '50's B-Horror, a "28 Days Later" style zombie fest, and another one that's a comedy. Based on what we had we decided to put the show together based on a night of horror-themed shows. We've got people dressed up as vampires and zombies in sort of a mish-mash of horror and Halloween themes. It even has Boris Pickett in it at some point, so the "Monster Mash" will be played. There are some interstitial pieces and film work. A friend of ours plays an organ and he'll be playing some spooky musical accompaniments.
If you say "Horrorshow" too fast, it sounds like "Whore Show," which is scary in and of itself-will there be whores?
No, sorry. And we've gotten more Clockwork Orange references out of it. We just wanted to call it a horror show, but people just kept throwing out names like "Romero and Juliet," so we put it to a vote and "Horrorshow" won.
Will there be any overarching theme that unites the four plays?
There's going to be a frame where I'm the Crypt Keeper. I've got a mask and a giant hooded robe to lead people through the dance of the macabre.
There will be some interactive elements to "Horrorshow." Are you at all concerned you'll frighten elderly theater patrons out of their Depends? You could conceivably kill someone with these plays.
E.M.U., unfortunately, has a "reputation" among a lot of the older people in the theater community. They would rather go see "Bye, Bye Birdie" than our latest smut-filled play. There will be some interactive elements to the plays, but it's not going to be like one of those haunted houses in Kansas City where we'll leap out with chainsaws. We live in a litigious society and we didn't want to get sued. The interaction is in how the plays are framed so that the audience will feel like they're part of the show. It's like a spooky movie, "Don't go behind the door!" They see the guy with the hook in his hand or whatever. It's going to be interesting because we've had people at our show ranging from 16 to 60.
Horror isn't a very common theatrical genre anymore. What are some of the challenges of scaring an audience in a theater?
We had two challenges. The first one is that modern horror has evolved to the point of gore horror and torture horror, where you're seeing someone ripped limb from limb with their guts lying on the ground. A lot of horror now uses shock value for the visual component. We were really trying to think how to scare people without having to use vats of fake blood and rely on intellectual shock, tapping into the fears that people have. The dread and nightmare aspects, hearing strange noises-we were trying to play to that aspect of horror. The other huge problem, from the perspective of stagecraft, is the suspension of disbelief. When you go to a movie it's in a darkened theater and it's very individualistic where you're reacting to a screen, whereas in a theater the people are right there. That poses a technical problem where we couldn't do the show like a movie.
But there won't be any whores?
No. Not at the show. Counsel has advised me to say that E.M.U. Theater in no way condones such illegal activities.
Awwww:
I know. When I told my Mom, she said, "Is that like 'The Best Little Whorehouse in Texas'?" Although, it's only $6 to get in:that's not even Tijuana prices.
I've gotten hand jobs more expensive that!
I tell you what, when I was in Amsterdam:
$6 wouldn't even get you a funny look! Is Halloween a great holiday, or the greatest holiday?
It's a great holiday, but not the greatest. New Years is the greatest. I love the idea of rebirth on New Years. I love Halloween, but as I've gotten older I hate that Halloween usually falls on a weekday.