Harry Swartz
political science student, music-playin' photog
How do you save money?
"Well, I'm glad you asked that, because it's Tuesday night and we came down to La Prima Taza for 2-for-Tuesday. Saved about $3, right there. That's how I save throughout the week--I know 2-for-Tuesday at La Prima Taza, cheap drink Mondays at Free State, $1.75 schooner Thursdays at Louise's, Jazzhouse on Tuesday nights-Tuesdays are spectacular. It's hard to choose. I wish they'd spread it out and share some with the weekend."
How much does that save you in a month?
"Maybe $50."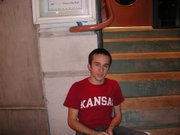 What do you splurge on?
"I might go out to eat. I couldn't choose a favorite restaurant, but I recently ate at La Parilla. I might get a chicken enchilada at La Parilla, or a burger at Jefferson's-it depends on what my mood is."