Justin "Danger" Bergin
Occupation: Dispatcher at a Taxi company
Age: 19
Hometown: Lawrence
Time in Lawrence: 19 years
What were you doing when scouted? Walking around downtown.
Favorite clothing store? If you want inexpensive, not exactly name brand clothing, go to Goodwill or something like that. That's where I like to go.
What do you look for? Things that are comfortable and won't fall apart easily.
How often do you go shopping each month? Not at all, really. I probably go shopping maybe three or four times a year.
How would you describe your style? Practical, maybe. I don't know.
How early do you get up? How much time do you spend getting ready? I get up at 6 a.m. every day, when I work at least. It takes me about 20 minutes.
When do you have to be at work? 7. I just walk to work. It's not that far away.
Favorite trend? Least favorite? I've liked the comeback of the cowboy shirt with the buttons. It looks pretty cool. I'm pretty much against the high school kids who wear all the black and pink and call themselves emo. It just pisses me off usually.
Where do you get your hair cut? At my house. I haven't gotten my hair cut by anybody professionally for about three years.
Photo Gallery
Style Scout: Justin "Danger" Bergin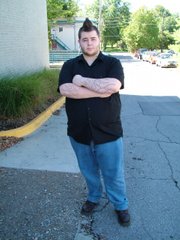 Who cuts it? If I'm just shaving my head it's me or I'll just get a friend to do it. Just get a good pair of clippers and you'll never have to see a barber again.
Tattoos? Piercings? The piercing's just something I decided to get. The tattoos are the first steps in a grand scheme that has, well, yet to be completely thought out. I wanted something really elemental for this arm. I got these flames tattooed and I was feeling a little incomplete. I wanted to complete this arm first so I got some rocks, some water and the sky embodied in these stars, to be sort of an elemental thing. I'm thinking of going for a Lovecraftian Cthulhu thing saying, "The stars are right."
Lovecraftian Cthulhu thing? H.P. Lovecraft was a horror writer in the 1920s and he came up with this huge mythos of Elder Gods and all sorts of evil, malignant creatures living on this planet. I'm a big fan of his writing, not because it's good writing-on the contrary, it really sucks-but I really like his verbosity and, basically, his balls for writing what he did and claiming all this stuff. So I just want to get this tentacled beast on the upper arm and say, "The stars are right." They have to be right for Cthulhu to emerge, and madness will reign.
Favorite coffee shop in Lawrence? For atmosphere I go to Java Break. If I'm in a hurry I go to Starbucks. But if I want quality I go to Z's.
Favorite bar in Lawrence? I don't drink. I enjoy going to the Bottleneck because I'm usually there for a concert.
Is there anything you'd like to see more of in Lawrence? Less of? I'd like to see less westward expansion.
Who do you think is stylish? I really idolize David Bowie, Marilyn Manson and Trent Reznor. I find the concept of celebrity to be absolutely fascinating.
Tell us a secret: Gogol Bordello's coming on Halloween. Everybody pay attention.