Summer Moore
Occupation: Sales associate at a department store
Age: 24
Hometown: Leavenworth
Time in Lawrence: Live in Leavenworth, work in Lawrence
What were you doing when scouted? I was on my lunch break.
Favorite clothing store? I think it's Wildman Vintage, in Lawrence. I'm into vintage clothing. I just bought a bag at Arizona Trading Company. (Holds up bag.) I don't really go there as much, they're not as cool. But it is pretty hot. I like vintage purses a lot.
How much did you spend on the bag? It was $16, which is kind of outrageous, but it's hot enough for me to pay $16 for it.
How often do you go shopping? Whenever the mood strikes me, whenever I feel like buying something.
How would you describe your style? I'm not dressed like it now because this is my work attire, but it's kind of a rock-n-roll, vintage soul sister kind of thing. But I'm not dressed like that right now, I'm dressed vintage casual-I guess that's the best way to describe it. I have to dress nice and cover the tattoos and all that stuff. Don't want to scare the old folks.
How much time do you spend getting ready for the day? I don't have any hair so it takes me about:from the minute I'm laying in bed to walking out the door, including making breakfast and stuff, I can be ready to go in 20 minutes.
Favorite trend? I'm not fond of a lot of them, actually. I guess I like the fur. Animal prints are really popular this fall. Cobalt blue is really big this fall too and that's my favorite color. Cobalt blue? It's like dark blue but light. It's real shimmery. It's got a lot of silver in it.
Least favorite? Those godd*mn f*cking rubber rainboot things. God! And Crocs. I hate Crocs. No one should wear plastic shoes. It's not good.
Photo Gallery
Style Scout: Summer Moore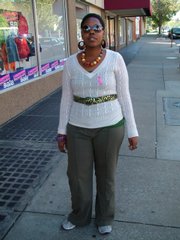 Where do you get your hair cut? Randomly, wherever is the cheapest, wherever I have time to go. This was at a barbershop. It was big, I had a big 'fro and I had them shave it off. It was at a grocery store somewhere.
Tattoos? Piercings? Other than my ears I don't have any piercings, but I have four tattoos. I have a spider, an upside-down cross, it says "Live free or die" on my shoulder and I have this little demon (on my calf), which was my first tattoo.
Any special meanings? This one (the cross), I'm really against organized religion. That's why it's upside-down. It's not Satanic, narrow-minded people. The spider: spider's one of my power animals. The "Live free or die" is just how I live my life. And this one (the demon) I just picked off a wall when I was 16. My dad said that I could get a tattoo and I said, "OK, let's go right now before you change your mind."
Favorite coffee shop in Lawrence? I'll say Wheatfields just because they let me sit there and eat my own lunch that I bring from home and they don't say anything about it. And I usually don't buy anything. So I'll plug them just for letting me do that.
Favorite bar in Lawrence? I'm a rock girl so it's probably The Replay or Louise's Downtown. It depends on the night and what the special is.
Is there anything you'd like to see more of in Lawrence? Less of? I'd like to see less of those emo punks. I don't like those emo kids-I don't like the guys in girls' clothes. It's not fashionable, so stop it. More of? Girls with tattoos. I don't see enough of them. People still look at me like I'm a freak because I have tattoos and I'm a girl and I'm not supposed to, I guess.
Who do you think is stylish? Kat Von D. "LA Ink" and "Miami Ink," she's the only girl tattooer. Tuesday nights at 9 on TLC you can watch her show. I like her style. I think she's the hottest hot chick. And she's covered-she's got both legs, both arms. There's not a lot of room left on her. She's got hot style.
Tell us a secret: I've got a crush on a boy. Hopefully he calls me, but if he doesn't f*ck him.
Want to say who he is? No. (Laughs.) I don't want to tell him who he is, but I met him recently. He's from back home. That'll be enough information for him.