Amy McClung
Occupation: Freelance filmmaker/film studies major
Age: 22
Hometown: Puyallup, Wash.
Time in Lawrence: 10 months
What were you doing when scouted? I'm looking for Java Break, which I hear is an internet cafe here. I can't find it.
Favorite clothing store? To be honest, I really don't like to shop. I go to bargain stores, you know, try to get a discount on things. It's not all brand-name stuff-you don't feel like you're a walking advertisement. And it's cheaper, obviously.
How often do you go shopping each month? Almost never. I don't spend my money on clothes. I spend my money on books and video equipment, because I'm a freelance videographer.
How would you describe your style? My style is probably "tomboy-chic." It's not too guyish but not too girlie. It's right in the middle. It's sporty but somewhat classy-sporty, if that makes any sense.
Favorite trend? Least favorite? Least favorite is probably those Ugg boots that girls wear. Favorite trend: probably this jacket I'm wearing. The aviator jacket look.
Photo Gallery
Style Scout: Amy McClung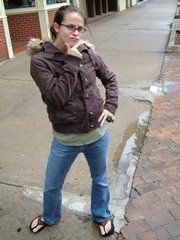 Where do you get your hair cut? I usually go to this beauty salon in Leavenworth called Bella Vita.
Favorite coffee shop in Lawrence? Bistro Bella, right off of 23rd and Kasold. They've got food and drinks and a really nice, laid-back atmosphere.
Favorite bar in Lawrence? Quinton's. That's the only one I go to. They do this wine tasting thing every once in a while, which is kind of nice. You get to sample all different kinds of wines.
Is there anything you'd like to see more of in Lawrence? I'd like to see more internet cafes. There are a lot of cafes around here but not a lot of internet cafes. I think with technology now it seems like a necessity, with people and their crazy schedules. We need a Red Lobster here-that's what this town needs.
Less of? It's saturated with KU stuff. I mean, I go to KU, but it's everywhere.
Who do you think is stylish? Jodie Foster. I think she's got a really classy, feminine but not too feminine look about her. Sort of tomboy-chic? That's right.
Tell us a secret: Hmm:No, I don't want to say that. Lawrence is pretty liberal, but I don't want to say that:My secret: I am not 12 years old. I am 22 years old and I don't look it.