Nicholas Herndon
Occupation: Doorman at The Granada
Age: 22
Hometown: Maize
Time in Lawrence: 2 ½ months
What were you doing when scouted? I was about to walk down to the bank, see how much money I had in it. I was probably gonna go eat or just relax, chill out, enjoy this day.
Favorite clothing store? I don't necessarily have a favorite clothing store. I used to like Abercrombie & Fitch a lot but just got tired of high prices and keeping up with fashion bullshit. If it looks good it looks good. The last time I went to the store I bought some $13 jeans from the Gap and I bought like three T-shirts for $2 at the thrift store over there on 9th and New Hampshire.
How often do you go shopping each month? I don't each month. I might go shopping every five months or so. I was just thinking that walking down here today it's getting colder so I'm gonna get some more Dickey's pants. That's the next thing I'm gonna buy and probably the only thing I'm gonna buy for a little while.
How would you describe your style? My brother influenced my style a lot because he was a big gopeding fan and they do a lot of that out in Northern California and Southern California. Their style influenced him and by proxy influenced me. Just comfort, maybe some high socks, skate shoes and whatnot-clothes that are comfortable, relaxing. I seriously would be a Dickey's rep because they're comfortable, they're functional, you can work in 'em, play in 'em, they look good. You can be under your car and then go out to the bars and they still look good. I'm all about it.
How much time do you spend getting ready for the day? It takes me all of 10 minutes to get ready. And that's shower, get cleaned up, get dressed, I'm gone.
Favorite trend? Least favorite? I worked in a middle school last year and I noticed, with the girls, they'd do this thing where they'd wear plain T-shirts, but they'd have those tight camisole T-shirts under it with the lace and shit on the bottom. So it was like you've got a Maize Junior High basketball T-shirt on with a Hollister lace top underneath it, this layered look. And I hated those short jackets. Stupid. Buy a whole jacket, for real. I couldn't stand those. Anything I do like: just T-shirts and comfort.
Photo Gallery
Style Scout: Nicholas Herndon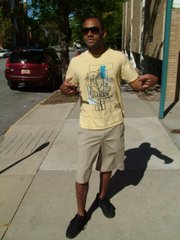 Where do you get your hair cut? I cut my own hair. About every week and a half I just shave it all off so it goes back to length so I don't have to worry about edging it up.
Tattoos? Piercings? I'm a tattoo fan. I'm not a big fan of the piercings. Either it's gotta be all the way on or all the way off.
Favorite coffee shop in Lawrence? I go to La Prima a lot. I like their Moroccan. But my favorite coffee in town is at the Hookah House. I love their Turkish coffee. It's the best. I'm not a coffee drinker but if I had that around I'd drink it every day.
Favorite bar in Lawrence? I work at The Granada so I really like that place, but my favorite to just go out and post up in, probably Harbour Lights. If I'm gonna go anywhere, that's where I'll go to get a beer. Or the brewery.
Is there anything you'd like to see more of in Lawrence? Less of? Not necessarily. It's a great town, just take it how it is. I love Lawrence; this is the only place I wanna be. Moved here from Wichita. You gotta make that exodus-too family-oriented down there. I don't have a car. You need a car down there to make it work and it's just nice up here. Real liberal, nice experience.
Who do you think is stylish? My style, at least when I dress up and whatnot, I only look at two people: Prince Charles and James Bond. For real. If it's good enough for those two, it's good enough for me. I'm talking about suit coats that fit, pants that fit. Clean looking.
Tell us a secret: I've got $200 sunglasses on but I probably only have like $50 in the bank.