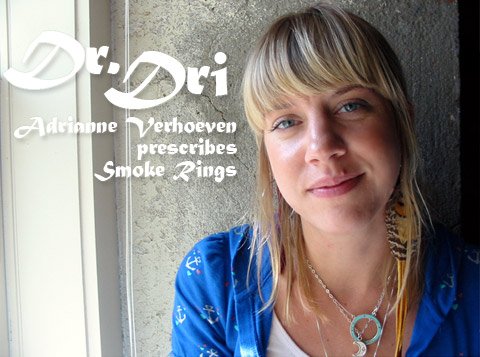 Adrianne Verhoeven aka Dri has been singing feverishly for a decade or so, first as a member of The Anniversary and now with Fourth of July and Omaha's Art in Manila. Though she's always been happy to share the mic, it's all Dri on her debut solo album "Smoke Rings." Due out this week on Lawrence's Range Life Records, the album marks a left turn into poptronica and blip-hop. Rather than compose with guitar or piano, Dri enlisted local producers Steve Swyers (Say My Name), Josh Powers (Scenebooster), Jeremy Nesbitt (Nezbeat) and Patrick Hangauer to cook up sexy instrumentals to riff on. The result is something akin to Feist or Lily Allen infectious pop music with injections of reggae, doo-wop and hip-hop. Peep our podcast with Dri for a sneak peek of "Smoke Rings" in advance of its November 6 street date.
No-fi highlights from the podcast
Is Dri your nickname?
My grandma and my mom called me Dri growing up Baby Dri. None of my friends called me that until a few years ago on an Anniversary tour because everybody had a nickname but me.
So I guess the catch phrase that we're throwing around here is "departure." What do you think?
I don't think there's any other way we could have done it. It kind of came about with Steve Swyers, who is such a badass. He's 21, and he's a genius. He came to me about a year-and-a-half ago with one of the first songs actually it was just a sample. It turned into, "Well, I guess I'll write songs over people's instrumental music."
Did I hear the line "All my ladies acting crazy"?
It's definitely a record with references to my girlfriends, my homegirls. I was telling my best friend on the phone last night, "Get ready, because there's going to be times during the set where I'm going to want to come out and dance with you guys."
Where'd the title of the album come from?
It's the last song on the album a Les Paul and Mary Ford tune about smoking cigarettes.
What was the creative process like for this record?
I had these instrumental tracks that were just pimp, and I would take them home and do my thing sing into my laptop, make a demo in GarageBand, play it for Zach (Hangauer, of Range Life Records) and we'd edit lyrics : I play a lot of instruments, but I feel like singing is my forte.
Did you write differently given that you were working in a different format?
I think so. I talked a lot about things that are very real rather than abstract. When I wrote songs with a guitar, I would want them to be pretty, and I would want them to be mellow. I'm a very mellow person, and some of these songs are that way too, but there are certain things I wanted to address. We all go out all the time and a lot of the record is about that being out and around.
What's the record release going to be like?
We're having a big party the night of Nov. 5 at Tellers, which is where I work : Josh Powers will DJ at 11 and we'll play the record at midnight. I'll probably DJ the rest of the night.
How are you going to pull "Smoke Rings" off live?
Josh Powers is going to DJ my album. I'm keeping some of the background stuff in there because there's so much singing on the record, but I'll be doing all the lead stuff.
Now that you have just a microphone in your hand, do you have to work up some new moves?
I think that's the way it's going to happen I can't not dance : Tonight is my first rehearsal with mic in hand. I like to hold the chord out to the side between my thumb and first finger that's what I do when I sing karaoke. Usually I have the mic on the stand all the time, except when I was little and I did talent shows and shit like that.
Tell us more about the talent shows.
That's how I started singing. I think I sang "Stand By Your Man" at one of them when I was like 13.
Did you do beauty pageants or just talent shows?
There might have been one pageant, but I don't really want to go there. I think I sang "From A Distance," the Bette Midler song. This is when I was like 10 or 11, so don't trip on me too much.