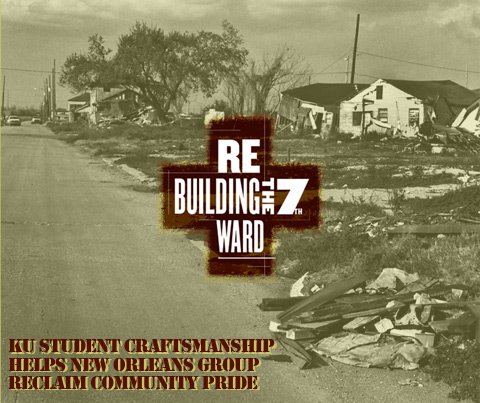 Lawrence — Strange seeds of convergence were planted two years and two months ago when Hurricane Katrina hit New Orleans. Only in context does it make sense why, of all the classrooms in all the world, fate chose this one.
Here, squirreled away in the narrow confines of the "mud hut," a small, single-story building used by the KU School of Architecture & Urban Planning, a group of students in room 140 has less than two months to build something for the people of the Seventh Ward of New Orleans.
This fall marks the fourth semester running in which a KU architecture class has worked at a furious pace on this ongoing project. On first blush, what they're doing doesn't seem all that different from the projects of so many other groups, both locally and around the world, that have clasped their hands together to form the continuing clusterf*ck of post-Katrina aid.
But when talking to a few specific folks in New Orleans, it becomes clear why, amid so many cries to remember this city, amid so much squandered energy, a project undertaken by two KU architecture professors and their students has risen like a fly out of the manure.
Audio Slideshow
New Orleans photos by Jill Ensley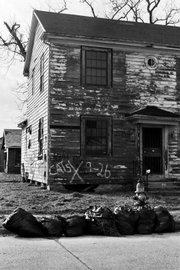 The burden of aid
Helen Regis, a founding member of the nonprofit cultural organization the KU students work with, doesn't want to sound ungrateful for all the well-meaning souls who, in the wake of Katrina, donated cash to the Red Cross or spent time and money to trek down South for a week.
At first, she says, residents were happy for any help they could get. It's just that, when an entire nation wants to pitch in all at once, the outpouring of love can become hard to manage.
"Overall, it's been a really positive thing," says Regis, associate professor in the department of geography and anthropology at Louisiana State University, "but after a while, quite naturally, you do look at the visitor with a little bit of reserve. They're gonna leave, and then you have to go on."
While big, bureaucratic organizations like FEMA and the American Red Cross were infamously mismanaging time and money on a titanic scale, smaller groups of so-called "volunteer tourists" from around the country-a decent chunk of them being college students-arrived in the city eager to lend a hand, and continue to do so.
But with such a large outpouring of support, the time community leaders spend facilitating volunteers doesn't always result in a net gain for their neighborhoods. The volunteers gain "a really interesting educational experience, so that's positive for them," Regis says. "But for the community partners in New Orleans it's kind of tiring to do that."
All of this is why Regis loudly sings the praises of the KU group.
How it happened was in December 2005, the University of Arkansas hosted a conference for experts in architecture to come up with ways to help. Among the professors to attend were two energetic men from KU, Rob Corser and Nils Gore.
Tulane City Center assistant director Dan Etheridge was asked to bring ideas. One project he presented was to work with a community group that was getting started near his own backyard. The KU professors raised their hands.
The Seventh Ward
Stretching from the Mississippi River to Lake Pontchartrain, the Seventh Ward is the second largest of New Orleans' 17 wards, behind only the Ninth.
It is a solidly black and predominantly poor section of the city. Its pre-Katrina average household income was $26,519 and nearly a third of its households made less than $10,000 a year. It brims with jazz musicians, brass bands, creole food, Mardi Gras Indians and second line groups (which organize street parades).
Big Chief Tootie Montana, "chief of the chiefs" in the Mardi Gras Indian tradition (who died just before the hurricane), lived in the Seventh, as did New Orleans' first black mayor, Ernest "Dutch" Morial.
"Basically everything the city of New Orleans uses to promote itself to the rest of the world is heavily associated with the Seventh Ward," says Etheridge, who lives just outside the boundary of the ward.
Compared to the Lower Ninth Ward, the Seventh was spared heavy flooding. But many of the houses, which were in disrepair before the hurricane, suffered from extensive wind damage and, like the rest of New Orleans, from the vacancy of basic services.
When Gore and Corser visited for the first time in January 2006, just before the start of spring classes, they found things in just the state one might expect-houses empty, windows broken, streets littered with debris.
"Most of the people were not back in the city," Gore says. "It was still pretty dark and felt pretty vacant in a lot of ways."
Classes soon started at KU, and both Gore and Corser overhauled the curricula of their design studios. The two classes would focus entirely on designing and building something for the Seventh Ward.
Meanwhile, the Seventh Ward group they were to work with had no name, no home base and only a foggy idea of what it wanted to accomplish. But they did know that they didn't want to miss the opportunity to finally get something going. For years, a cultural group had been a topic of conversation among a small group of residents. Now, with two classes from Kansas pledged to help, they had to make themselves into a real organization.
"One of the things that really helped push us forward was knowing that there was a group of architects in Kansas who were interested in working with us," Regis says. "We knew we wanted to do this, but sometimes it's difficult to prioritize organizing a public meeting, to be perfectly frank, over meeting with your insurance agent or the FEMA official or trying to get garbage pickup in the neighborhood."
They talked about what they wanted their enclave of the Seventh Ward to be like when those who were living "in exile," as they called it, returned. More than anything, they didn't want the diaspora to destroy their traditions.
One of the biggest cultural threats, as it turned out, wasn't destruction-which could eventually be beaten with hammers and determination-but something far more menacing: expensive new developments and price gouging.
Ed Buckner, a lifelong Seventh Ward resident, bakery owner and a founding member of the group, explains that because the Seventh Ward remained fairly dry through the storm, it found itself in the unlikely position of becoming much-desired real estate. Opportunistic investors started buying up properties and hiking up rent.
Within a year of the storm, most of those who could afford to return did. But many longtime residents were forced out by the skyrocketing prices.
"When the people were really being displaced, the city was kind of making a change of dynamics," Buckner says. "It started going from one type of city-from a predominantly black city-to a city that didn't even really welcome the blacks back.
":(Development) is not a bad thing, it's just that we wanted to make sure that they included all of the people, not just coming in figuring they would run roughshod over the people that had already been there."
The group started meeting every week, talking about making sure the neighborhood's storied traditions were passed on to the children when they returned.
There was one last thing the group needed.
"When we first started talking to them," Corser says, "they didn't have a name. We were trying to describe to them what we wanted to do, and they were trying to describe who they were. We said we'd like the architecture to be real open, like a porch. And they liked that idea so much they said, 'Let's call our organization 'the Porch.'"
Getting to work
At the beginning of the spring semester, before many of the Seventh Ward residents had returned, the two KU classes drove down to figure out what the group wanted. They brought with them wooden notice boards they'd built.
These boards-actually, they were small wooden shelters with a metal roof and two boards planted in the middle-were stable and visually appealing. More importantly, they were incredibly useful. Phone service was still down for many people. Placed at abandoned bus stations, the boards served as a simple but effective way for residents to get caught up on the latest events.
"It was something small, it was something that was needed, a little way for people to communicate," Etheridge says. And, he says, the boards sent a message to the community: "We build things. This is what we do. What can we do for you?''
After walking the streets and meeting with residents, the classes returned and began working on projects for a community garden the group asked for. Corser's class got to work designing a shade pavilion-a large structure people could meet under outdoors-while Gore's set out to build a tool shed.
Corser likens their strategy to a movement called guerilla architecture. Lacking a large vision, their tactic was to build small, targeted objects that would be of the most use to the most people.
Gore says, "It's easier to have a small vision that's in reaction to the small vision that happened just before it, so that you're building this thing piece by piece in a smart and evolving way, as opposed to trying to imagine a huge thing from scratch."
About half the semester, Gore says, was spent teaching the 16 or so students in each class the basics of construction. In most architecture classes, students don't actually have to build the stuff.
"Usually with our projects, we don't have to make them actually work and actually usable for somebody. We just have to have this image in our head," says Gavin Snider, a student in Corser's class this semester. "Now, within this half of the semester that's left, we have to take our vision and make it so that it's buildable and useable and something that these people are gonna like."
First they design the thing, then they get the pieces ready to go. At the end of the semester they throw it in a van or pickup and haul it to New Orleans, where they put it together. It has to be functional. And it has to be artistic. Meanwhile, much of the students' time is spent pestering local donors for money. Each project has cost about $5,000 (a paltry sum, all things considered).
"I think the reality of the situation from the beginning puts a good damper on their enthusiasm," Gore says.
Past Event
Monday, November 19, 2007, 7 p.m. to 9 p.m.
Kansas Union Gallery, 1301 Jayhawk Blvd., Lawrence
All ages / Free
Rebuilding pride
In the two years and two months since the hurricane, life in the Seventh Ward has, in many important ways, returned to its old habits. Musicians have returned, as have Mardi Gras Indians. Culture has not been wiped out by the storm, as many had feared.
"The black folks who do the second line and the Indian outfits and the musicians that play in jazz bands : it was right back to work," Buckner says.
Still, some things are different. More whites and Latinos now live in the neighborhood. Gentrification is still a threat. Rent is still outrageously high. And the local children, the key to keeping their traditions alive, haven't all returned. When fathers and uncles moved back to find work in the rebuilding effort, Regis says, their families stayed away because schools and hospitals were closed. Many of these things are now open, but many native children may never come back.
"The big question mark," she says, "is whether people are able to bring their families back and whether young people are really gonna be able to do the apprenticeships that they would traditionally do, to learn about the sewing, to learn the songs and to learn how to do the performances. We're doing a lot better than we feared in terms of coming back culturally, but there's still a disconnect."
The Porch has been steadily growing. It has held a summer art camp each of the past two years. It organized a Seventh Ward Festival in May. It holds ongoing art classes for kids. And the group recently acquired an old corner store building across from an elementary school.
The KU students' projects serve as the framework for about everything the Porch does. The group holds classes in its "outdoor classroom," a large shade structure built this past spring. Residents grow vegetables in the community garden. This semester, the KU students are building a slew of multifunctional furniture for the new building.
When Corser and Gore signed on for the project, they made a five-semester commitment. They're currently in the fourth semester, but the end isn't necessarily in sight.
"It's exhausting to keep a project like this going," Gore says. "It's a little unclear to me at this moment exactly when it's gonna end. But as long as it continues to be fun and the students are interested and it's financially supported, then we'll probably keep going."
The key to their success may be how much attention they've paid to detail. When Corser's class returned for one of its regular start-of-the-semester visits, the coating on the shade pavilion a previous class had built wasn't holding up under the sun. So before starting work on the new project, they repaired the old one. Such follow-through, commonplace as it may sound, is exceedingly rare, Etheridge says.
Regis points to the mobile stage the students built last fall as something that changed the neighborhood, if only in a small way. The Original Little Seven Players, a youth theater company started by Buckner and some others, practices on the stage, and it's also used for festivals and often borrowed by larger, wealthier community groups. It has become a symbol of Seventh Ward pride.
"In a neighborhood that doesn't have a lot of resources," she says, "where there hasn't been a lot of public investment, to have something like that stage that's just beautiful-and there's no stage like it anywhere in New Orleans or anywhere in the world-it's hard to explain the effect that that has on us.
":We're not putting up something that's prefabricated from Wal-Mart or something mediocre that's 'good enough for New Orleans' or 'good enough for this neighborhood.' It's quite the opposite."