Joseph Griffin
barista, theater guy and film dude
How do you save money?
"I try to walk everywhere if I can, rather than drive my car. I also try to get $1 slices at Rudy's whenever they have them at the end of the day. I use my student ID to get a discount on movies at Southwind all the time, even though I graduated a long time ago."
How much does that save you a month?
"Maybe $100 or something."
What do you splurge on?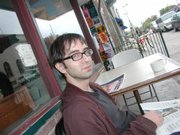 "I would buy a bunch of new clothes. After a while I would save up and go to New York for a Broadway show. There are a couple of theater productions that I'd like to do I could use that money to fund. I also might take a vacation to Los Angeles."