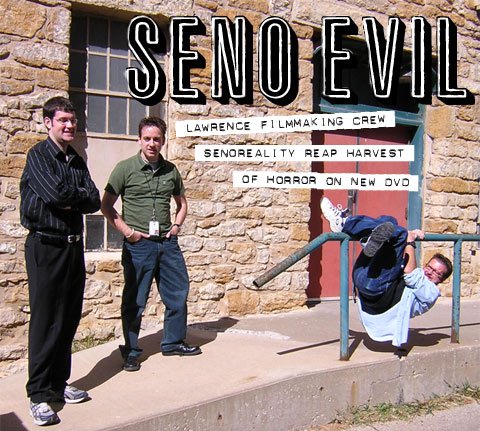 A mutilated mime, a prognosticating photo-copier, and a cafe on the edge of hell-no, it's not the set up to an elaborately lame joke, but instead just a few of the supernatural subjects of "Heartland Horrors."
Conjured up by local production company, SenoReality, "Heartland Horrors" tells seven terrifying tales of demonic depravity that were filmed almost entirely in and around Lawrence. The shorts range from the apocalyptic dread of a doomed heroine who can predict her own death in "Woman's Intuition" to the in-your-face (literally) cartoonish cannibalism of "Shed out of Luck." Originally an online series of webisodes for www.HorrorChannel.com, "Heartland Horrors: Season 1" collects these miniature tales of the macabre on a just released DVD. Patrick Rea, writer and director of a majority of "Heartland Horrors" and co-founder of SenoReality, joined lawrence.com to talk about the new DVD, blood cannons, and the shitty state of horror.
lawrence.com: How did SenoReality come about?
Rea: It's a company that Ryan Jones and myself started in 2001 in college, then we got Josh Robison involved. Ryan's a genius when it comes to sound effects and Josh is great at editing. We started doing short films and getting them out to festivals, which we were fairly successful at. We had a couple of shorts come out on a DVD hosted by Rob Zombie three or four years ago. Those two shorts were both KU projects we made in film school-I don't recommend watching them. We've come a long way since then. The learning curve is visible in a lot of the things we've been doing.
Between "Heartland Horrors" and your first feature, "Empty Acre," you guys seem to focus exclusively on horror-ever considered a romantic comedy just for variety?
Horror and fantasy are my favorite genres. I want to do sci-fi primarily. For example, "Woman's Intuition" was more sci-fi than horror. I don't plan on making any romantic comedies unless someone gets run over by a semi at the end.
"Shed out of Luck" had an impressive amount of gore effects-including some nice face-in-corpse action-for a small-budget short film. What were some of the challenges making that one?
Yeah, we had a guy come on set who had a blood cannon. We shot that entire thing in one day. We had to. We had one, solid 24-hour period with all those people there so we just ran through it as fast as we could and it turned out pretty damn good. That was one we paid out of our own pocket for and that's the one that gets the most reaction out of people, I think.
The face-in-corpse-action was decided on set that day. We were like, "You know what would be better?" Because the character was originally just going to get shot and that would be the end. Then we decided to have his face land in the corpse as a little exclamation point to everything.
Do you have enough resources here in Lawrence to continue filmmaking, or will you eventually have to move to L.A.?
One thing that I've learned over the last couple of years is that, obviously your first instinct when you get out of film school is to move to Los Angeles, but now with technology you don't have to do that. I don't plan on moving out there for a while, if ever. Right now, I feel pretty comfortable doing my stuff out here. Hopefully, 10 years from now we'll all be constantly making films and not having to worry about paying bills and all that stuff. That's just something we have to work towards.
What's the appeal of the horror genre for you?
I don't know-it started as a kid. When you're young and you're not supposed to watch something and you do it anyway, then it becomes like this forbidden fruit and suddenly you're into it. It was like, "You can't be watching Freddy Krueger right now, you're supposed to be watching Care Bears." So of course I watched Freddy Krueger, and when my parents came into the room I flipped it to Nickelodeon. It started like that.
I just think horror movies are fun to watch, even the bad ones. There seems to be a plethora of bad ones, like a huge amount of bad horror movies, because they're cheaply made and they're easily marketed. Especially now, it seems like there's a new horror movie every week and it's generally No. 1 at the box office. There's a huge glut of horror movies right now that are saturating the market, so you kind of have to come up with something that's fresh.
What do you think you bring to the horror genre that's fresh?
I just try to do a little bit more "Twilight Zone" stuff, or stuff that's more like "Night Gallery" or even "Tales From the Crypt." I think right now the focus is on remakes and torture films. The remake thing is, I think, what's really hurting the horror genre. I think they announced this week that they're going to remake "The Exorcist" and "Child's Play." The good thing about remaking "The Exorcist," I said jokingly to somebody, is that they can go no higher than that. They've reached the end and now have to go back down. The remake is killing the genre-they need to start doing some fresh material. The problem is that every remake-including Rob Zombie's "Halloween," the worst, most horrible remake of all time and worst movie of 2007-made a pile of money and was instantly profitable. To the guys running the studios, they don't really read the reviews, they just see the numbers. That's the most depressing part, but in many ways it's helping me. If all they're doing is remakes and torture movies and I do something slightly different, then it gets a little bit more attention.