Ashley Tippin
Major/Occupation: Human biology/waitress extraordinaire
Age: 23
Hometown: Fort Collins, Colo.
Time in Lawrence: 5 years
What were you doing when scouted? Waiting on Wescoe Beach for Spanish class.
Favorite clothing store? Usually thrift stores, antique malls. I have kind of an anachronistic style. I like out-of-period clothing.
How often do you go shopping each month? Probably once or twice. I don't really have time for shopping anymore. What do you shop for? Usually shoes or cool jackets, things like that.
How would you describe your style? It's very eclectic and maybe a little off the cuff. I like to be a little bit unusual, not really look like anybody else. Maybe comfortable too.
What time do you get up? How long does it take you to get ready? Usually around 11, 11:30. I love to sleep in. It takes probably 20, 30 minutes.
Favorite trend? It's fall, so I'm really excited about scarves and mittens and cool socks and boots-really excited about boots. Least favorite? Probably people wearing their pajamas to school. Sweatpants are out.
Photo Gallery
Style Scout: Ashley Tippin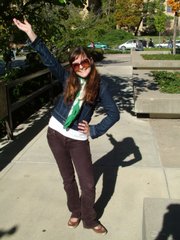 Tattoos? Piercings? I have two tattoos and my nose is pierced. I have a bird from my dad's PRS guitar tattooed on my foot and another stupid tattoo I got when I was 16 and regret it. What's that? It's just stupid. It'll be unmentioned. It's unmentionable.
Favorite coffee shop in Lawrence? I like J&S; coffee shop. It's out on 6th and Wakarusa, kinda off the beaten path. The people that work there are really great. They roast their own beans, they have a lot of free trade coffee.
Favorite bar in Lawrence? Probably the Bourgeois Pig. I usually know a lot of people there. It's a quiet, nice place to have a good cocktail.
Is there anything you'd like to see more of in Lawrence? Less of? I'd like to see a lot more little eclectic places to go. There's not a lot of bars that are quiet and low-key where you can get a good drink. Less fraternal organizations would be nice.
Who do you think is stylish? That's hard. I don't really pay that much attention to celebrities. I have absolutely no idea.
Tell us a secret: I am deathly afraid of deer. They're scary, they jump out in front of cars, they're all over the place. Does that make you pro hunting? I am pro hunting-deer only.