Justin Coen
Occupation: Army Reserve career counselor (does re-enlistments)
Age: 30
Hometown: Topeka
Why in Lawrence? Had an appointment at the Army Reserve center.
What were you doing when scouted? Before I went back to Topeka I was gonna stop here (at The Granada) and get some tickets for tomorrow night. Who's playing? Atmosphere.
Favorite clothing store? I like the Gap, actually. I just like their jeans.
How often do you go shopping each month? I probably go at least once a month, just to get a shirt, jeans or something.
What does your style tell others about you? You mean right now? How about right now and then normally. Right now it tells 'em I'm in the Army, I guess. Normally, it tells 'em I care about my appearance. I'm mostly a jeans and T-shirt kinda guy.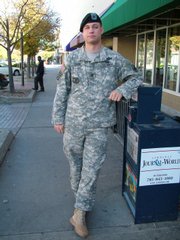 What time do you get up? How long does it take you to get ready? I get up about 6 and it takes me about half an hour.
Favorite trend? I haven't noticed anything recently. Least favorite? I don't like the boots, I don't know what you call 'em, the mukluks, or the furry boots. That's kinda strange.
Favorite coffee shop in Lawrence? Actually, I live in Topeka, and my favorite coffee shop's my kitchen because I like my own. Do you buy good coffee, or the cheap stuff? I just use Folgers with the French vanilla creamer.
Favorite bar? I like Bullfrogs Live over in Topeka. At least, that's where I'm at most the time.
Who do you think is stylish? I know it sounds strange, but Lee Harvey Oswald, when he was shot, he had like a white shirt underneath with a sweater. I've always thought that was kinda cool.
Tell us a secret: I'm not supposed to be here right now.