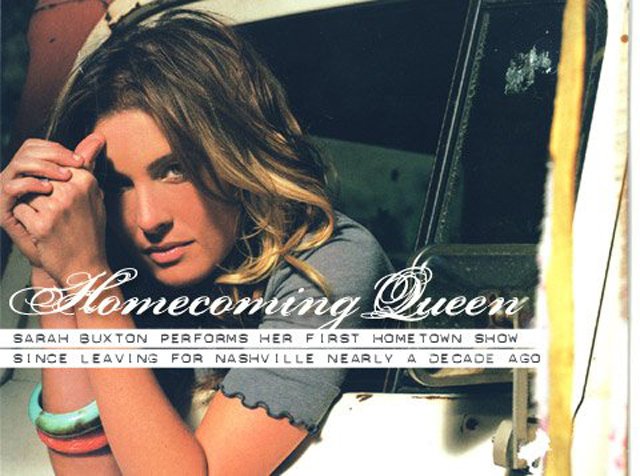 Monday, September 3, 2007
Much of what audiences need to know about Sarah Buxton she spells out in the first lyric on her latest album.
"I left Lawrence, Kansas, at the age of 17 / To chase down my own version of the American dream."
Ten years later, that dream has evolved into a daily reality for the Nashville-based country artist.
"Your roots are so important," Buxton says. "My parents still live in Lawrence. It's where I go every year for Christmas. Growing up there shaped me. There's never been a place in the country that I've gone to that felt foreign to me because I feel like there are elements of everything in Lawrence."
The 27-year-old performer says she's contemplated moving back here several times.
"The reason why I haven't is because I know it wouldn't be the same. Living there, being the person that I am now, would not be the same as it was when I grew up," she says.
Album Mp3s

Sarah Buxton (Advance album)
The "person that Buxton is now" includes being one of a handful of artists (Rascal Flatts, SheDaisy, among others) signed to Disney-owned country label Lyric Street Records.
This summer she released a digital EP packaged as "Almost My Record." The downloadable project features five tracks, including "Stupid Boy," her song that Keith Urban covered and turned into a top-five hit which just earned a CMA nomination for song of the year.
Truth be told, the timing and format of the release were not exactly what Buxton was expecting.
"If it was my decision, the EP would have been out nine months ago when I had three songs on the charts," she says. "It seemed so weird to me that I had all these songs on the radio and there was no material to buy."
That said, she's proud of the release-particularly because they're her songs.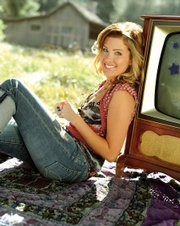 "It's so nice to be able to go, 'I'm so glad I wrote this. I'm so glad I put this on my record because people are connecting with it,'" Buxton says.
"It makes it so much easier when you love what you're singing. Because when it all comes crashing down-which is pretty much inevitable at times-to lean back on your music is a gift."
Chain, chain, change
Unlike fellow Kansan country artists such as Martina McBride and BR549's Chuck Mead, Buxton began thinking of a career in music later in life.
"I did not grow up performing in pageants or thinking I was some great singer," she recalls.
"I was in the Lawrence Children's Choir, I played bells at Plymouth Congregational Church and I played in band. But I wasn't like, 'I'm going to be the next Shania Twain' when I was 14."
It wasn't until her junior year at Lawrence High School that she had a musical epiphany.
She landed a solo number (Patty Loveless' "Blame It On Your Heart") at "Showtime," the school-sponsored variety showcase. During dress rehearsal, she watched a group of seniors present a moody version of Fleetwood Mac's "The Chain."
"I had never heard of Fleetwood Mac," says Buxton, who graduated LHS in 1998.
"But I went home and said, 'Mom, there was one number that I would drop all my solo numbers if I could be in it.' I sang the chorus to it, and she went, 'That's Fleetwood Mac.' She went that night and bought me 'Rumours' and 'Greatest Hits.'"
Buxton says being totally enamored with Fleetwood Mac is what set the budding songstress on her current professional path.
"If it wasn't for 'Showtime,' I don't think I would have been a songwriter," she adds.
"She was a kid that was definitely above average," says Jeff Anderson, former director of choral music at LHS who ran "Showtime."
"It's hard at that level to know exactly which ones are going to rise. But she had the potential all the way through."
Anderson, now retired, says he would motivate subsequent students with Sarah's story.
"I always gave the example of Sarah that she was a person who wanted to go out and make it big," he says. "There were always ups and downs, but she kept after it all the time. If she ran into a roadblock somewhere, she'd just turn and keep on going. The key is don't let anybody kill your dream."
'Organic and unreliable'
After high school, Sarah set left town for Nashville's Belmont University-a school renowned for churning out country music stars.
She also started gaining practical experience in a Southern rock band called Stoik Oak, which led to three years of no-frills touring. Soon after, she married a fellow musician-but the marriage endly quickly in an "ugly" divorce.
All the while, Buxton continued to write songs. At 20, she was able to stop working retail and waiting tables when an independent publishing company hired her as its only full-time writer-a position she continues to enjoy.
It wasn't until Buxton's mid-20s that she decided to put as much effort into marketing herself as her songs. This, despite the fact she regards her singing voice as "a pain in my butt."
"When I moved to Nashville, I just jumped right in without any vocal lessons about how to sing with breath support. I was just flailing around. I've got this really rough texture to my voice due to all the use that I put on it over this time," she says.
Past Event
Thursday, September 6, 2007, 7:30 p.m.
Abe & Jake's Landing, 8 E. Sixth, Lawrence
All ages / $25 - $100
Her tone can come across as bluesy and soulful, but she dismisses describing it that way.
"I just think it's really organic and unreliable. You don't know what it's going to do. I can wake up one day and be able to sing a certain song, then sit in a noisy restaurant and talk all night, and the very next day not be able to sing the same song," she says.
"Sarah Buxton has a truly unique and compelling voice," says Doug Howard, of Lyric Street A&R.;
"Whether she is singing in the studio with the best musicians in the world or singing in a small club with one guitarist, she has both the vocal and performance chops to entertain, mesmerize and endear an audience."
In addition to her voice, Howard says Buxton stands out because "she knows who she is. She has a story to tell, and that story is brilliantly told in the wonderful songs that she writes."
Podcast interview with Buxton
Bic Mac
Buxton admits this last month has been the busiest of her life.
"You become an 'artist' and it turns into a totally different thing," she says.
For the most part, Buxton is comfortable with the details of becoming a budding Nashville star. ("Being a writer for so many years, it was kind of a shock this year to go through stuff like 'Golly, I've got to do my hair again? I just did it two days ago!'")
But she says the thing that "still freaks (her) out" is knowing that celebrities like Nicole Kidman (Urban's wife) and childhood musical heroes like Elton John are fans of her music.
"To go to dinner with Nicole and have her across the table talking about how much she loves a tune-that's definitely a highlight," Buxton says.
She's even had the chance to chat with two of the members of Fleetwood Mac.
"I met Lindsey Buckingham (this summer) and told him the whole story about 'Showtime,'" she says.
"I also met Stevie Nicks that summer after my senior year. I actually got to have a conversation with her that made me go, 'You know, she's just a person who made it happen. I better go do something, too.'"